For us the Hoxton Hotel in Shoreditch has oft been a late night refuse for 'just one more drink' and we have occasionally managed to snag the £1 room deals they offered back in the day, utilising it as a convenient location to pass out after getting shitfaced at a gig in the Old Blue Last.
With the new edition to the chain now opened in Holborn, it has made getting that last drink anywhere other than Covent Garden much easier. With an open plan layout like its sibling back East, they have also managed to squeeze in a coffee shop, cold press bar and two restaurants. One of those is the reliable-but-pricier-than-Nando's Chicken Shop, the other is Hubbard & Bell.
With an open kitchen along one side, honey banquettes and tiled flooring that looks like a Blockbuster game board all framed by a warm cream painted brick walls, the place looks like someone accidentally lobbed Electric Diner and the Ace Hotel in the same hot wash cycle. And then spent 6 months on Pinterest. The upscale American diner vibe is amplified by the menu which is segregated into vague one word sections, again bearing an uncanny similarity to Electric Diner's carte - something which becomes less surprising when you know both are owned by Soho House (as is Chicken Shop). Menu items are punctuated with ONE WORD DESCRIPTORS that SHUN ADJECTIVES. FIG. PARSLEY. WHIPPED. MUSTARD. Almost like they've tagged the food on the internet.
It is hard not to continue with the comparisons when talking about the burger here as resemblances instantly sprung to mind: The sesame-seeded, polished sheen of the perfectly domed brioche is reminiscent of Balthazar's burger bun whilst the pickle and mayo focus brings back recollections of Electric Diner's cheeseburger. The brioche is a neat and airy receptacle for the decently seared patty which was deeply pink in some places, and not so much in others. Beyond the crust the meat was soft and moist but in need of salt. The broad slice of chewy savoury cheese played off well against the stocky slices of tart pickle and an awesome mayonnaise-y condiment embedded a good creamy sweetness to counterpose them. It is a decent classic posh diner burger.
The patty melt encloses a similarly prepared patty between two buttery-crusted bread slices, not overladen so still crispy. The mound of caramelised onions are the good kind of soft-but-not-stodgy adding a mellow sweetness to the sandwich, whilst the thin slice of cheese acts as a dairy glue to meld all the parts together and that same delightful thick mayo adds some lube to the occasion.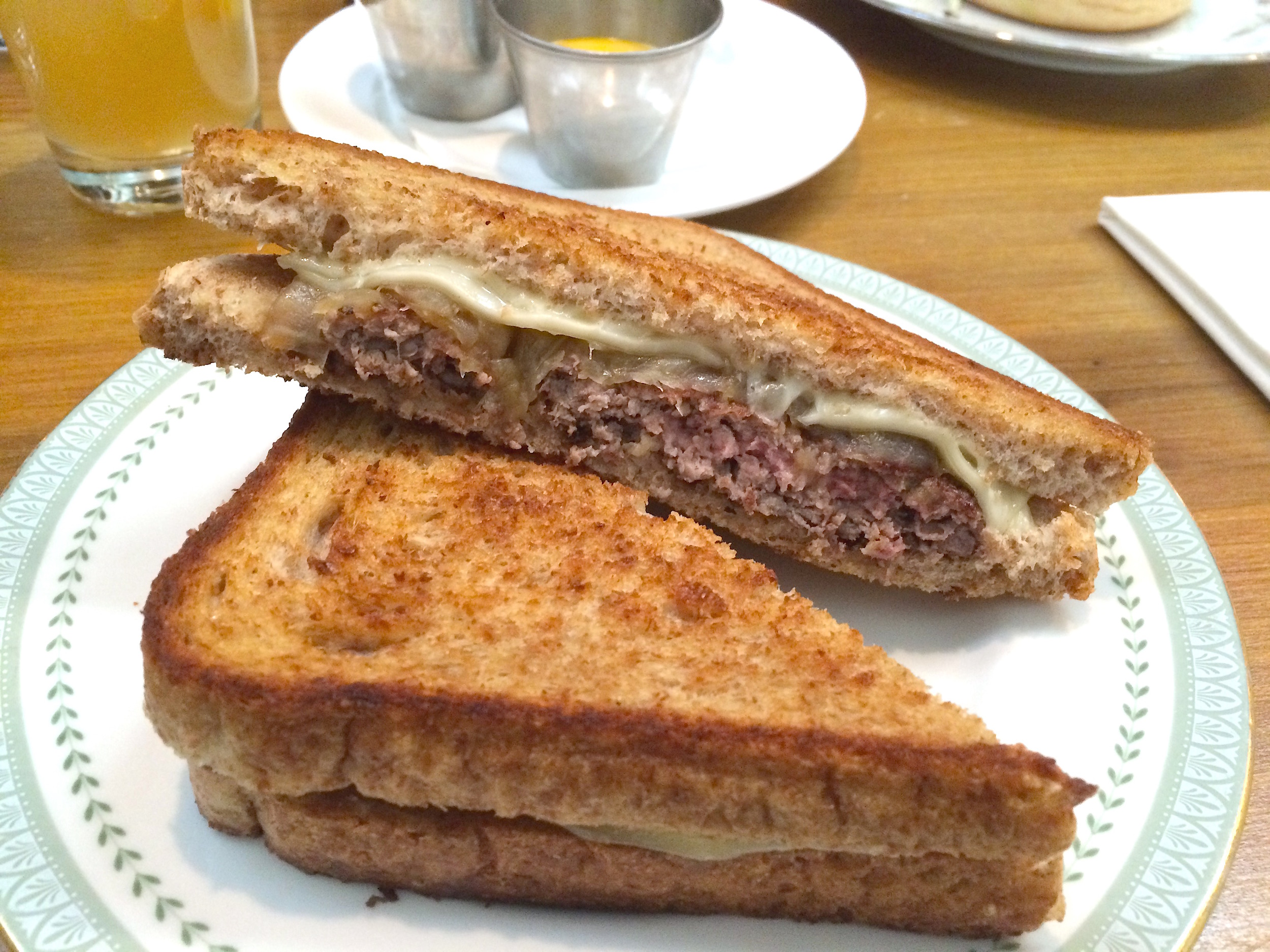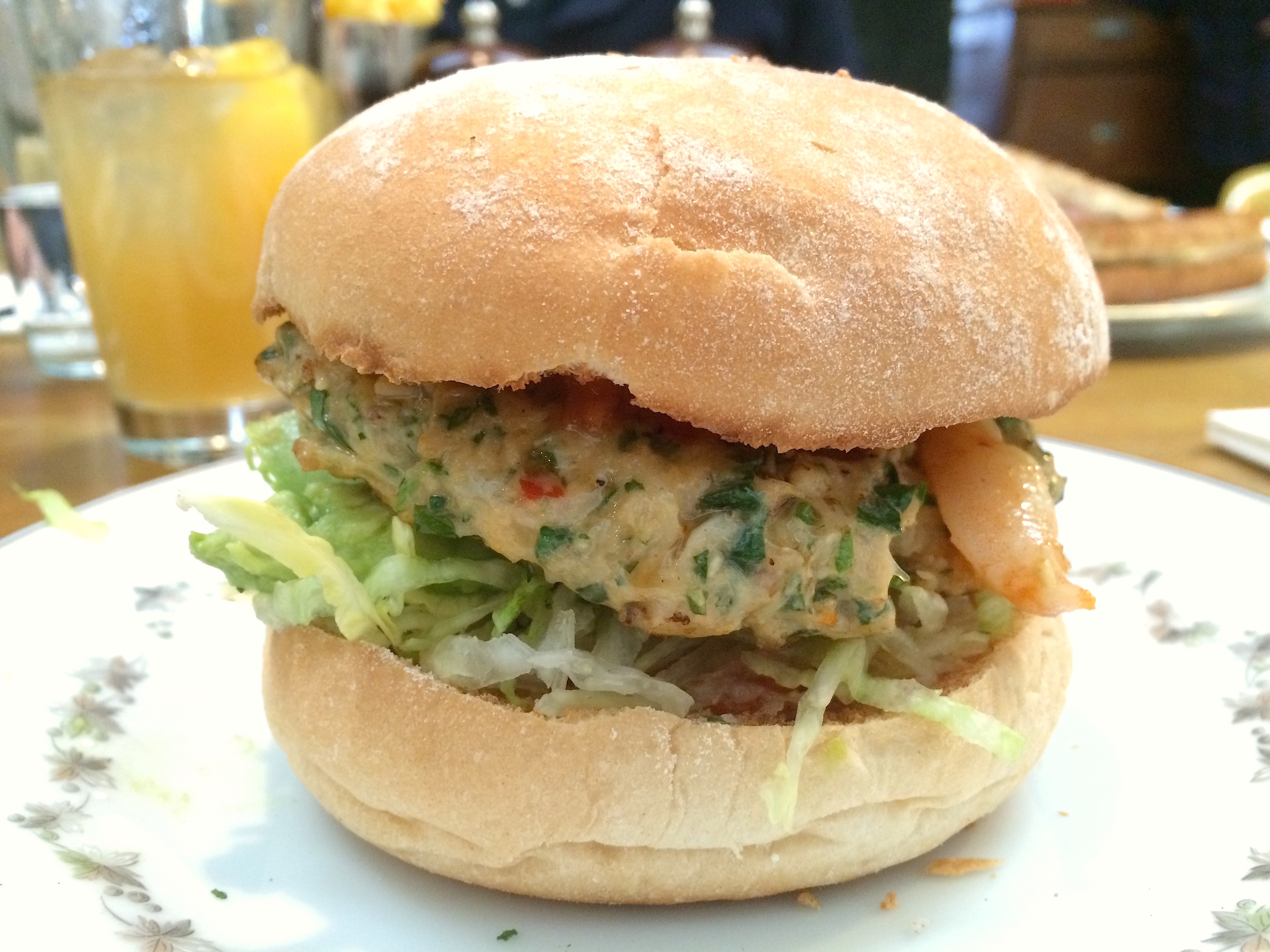 Again, it is a decent version classically executed. The fries follow suite by being crisply enslaving and partnered with a solid garlic aioli that is warming with subtle lemon tinges.
And then. The Fishy Burger. Which was called SHRIMP - crab, lettuce, potato bun. For some reason, this collection of words really whetted the appetite. We imagined a patty made from juicy huge shrimp, all whapped together with some crab, a sliver of green in a Martin's-esque potato roll. So we ordered it to see what turned up:
Alas it didn't meet the impossible image conjured in our minds. It was largely flavourless, a bit spongy and we spent the rest of the day picking bits of green out of our teeth.
This is a comfortable place with other stuff we want to come back and try: beef on toast? Yes please. And it is in the right place for those of you that do working lunches and all that jazz. Now, if the hotel could start doing those £1 nights, because we'd fucking love somewhere to pass out after a big one at the Shakespeare's Head.