Ever since he quarterbacked the supreme Pitt Cue kitchen back in 2012, we keep our eyes out for new ventures from trucker cap resurgence forerunner Neil Rankin. Although we haven't done very well actually getting the to places: We missed him at John Salt and getting a table at Smokehouse in Islington is pretty tricky. So there was no missing his eggcentric (groan) new gaff with a menage of potato hash dishes on the menu.
Bad Egg could not be more in the City, being situated at the base of the CityPoint building. Lunchtimes are busy and the place inevitably looks like the canteen at a T M Lewin catalogue shoot, but visit at 3pm on a weekday and you'll have the run of this oxymoronic low key upscale diner.
Maroon booths and banquettes commingle with reclaimed school chairs. Tables have basic wood tops with French bistro bottoms as Kona beer six packs act as condiment racks on them. The sombre country music echoing around aids the diner feel they are going for. But the battalion of bare ceiling bulbs and wooden panels add the reassuring touch of 'contemporary' London design, making it feel like an upmarket Byron.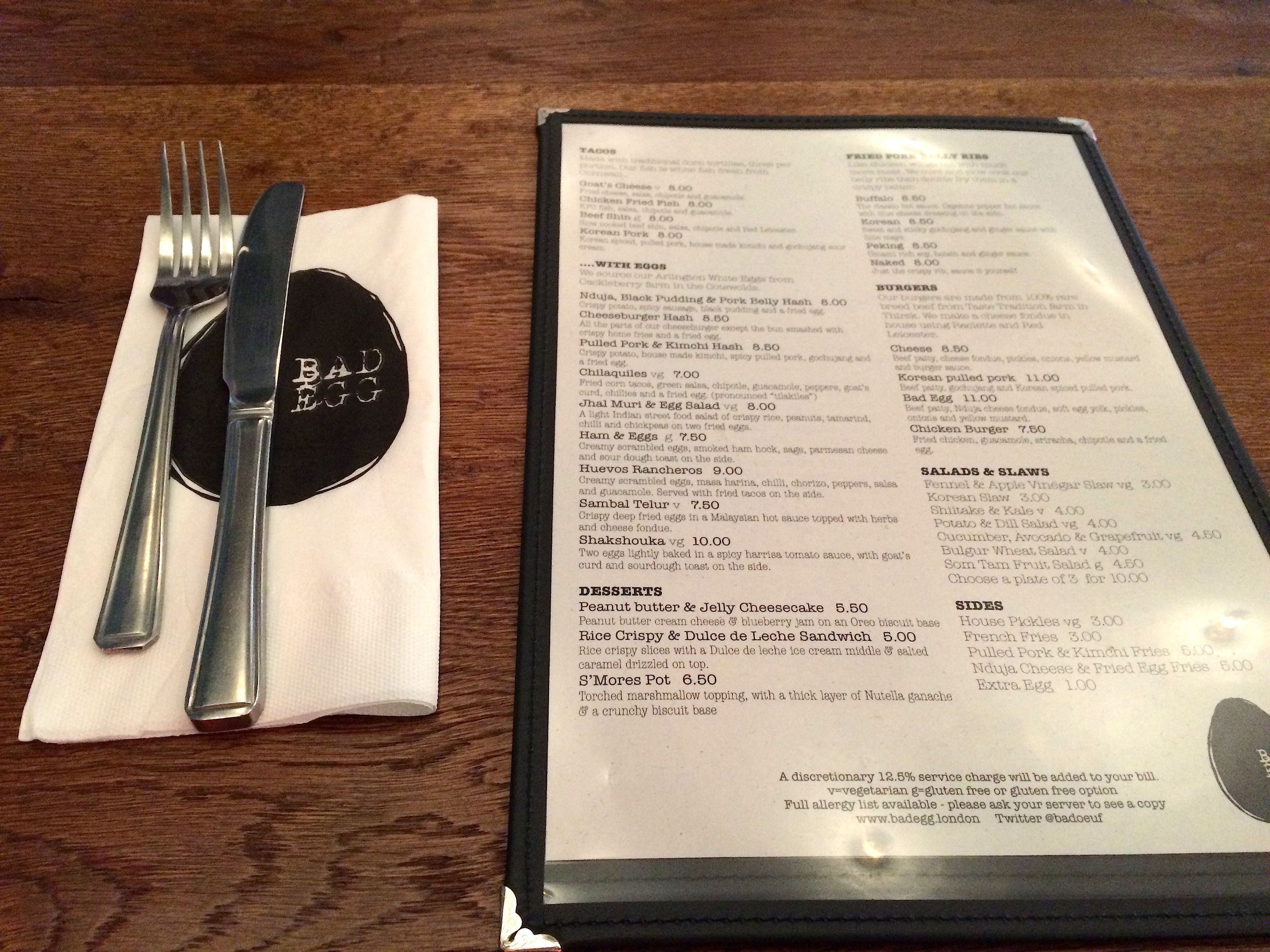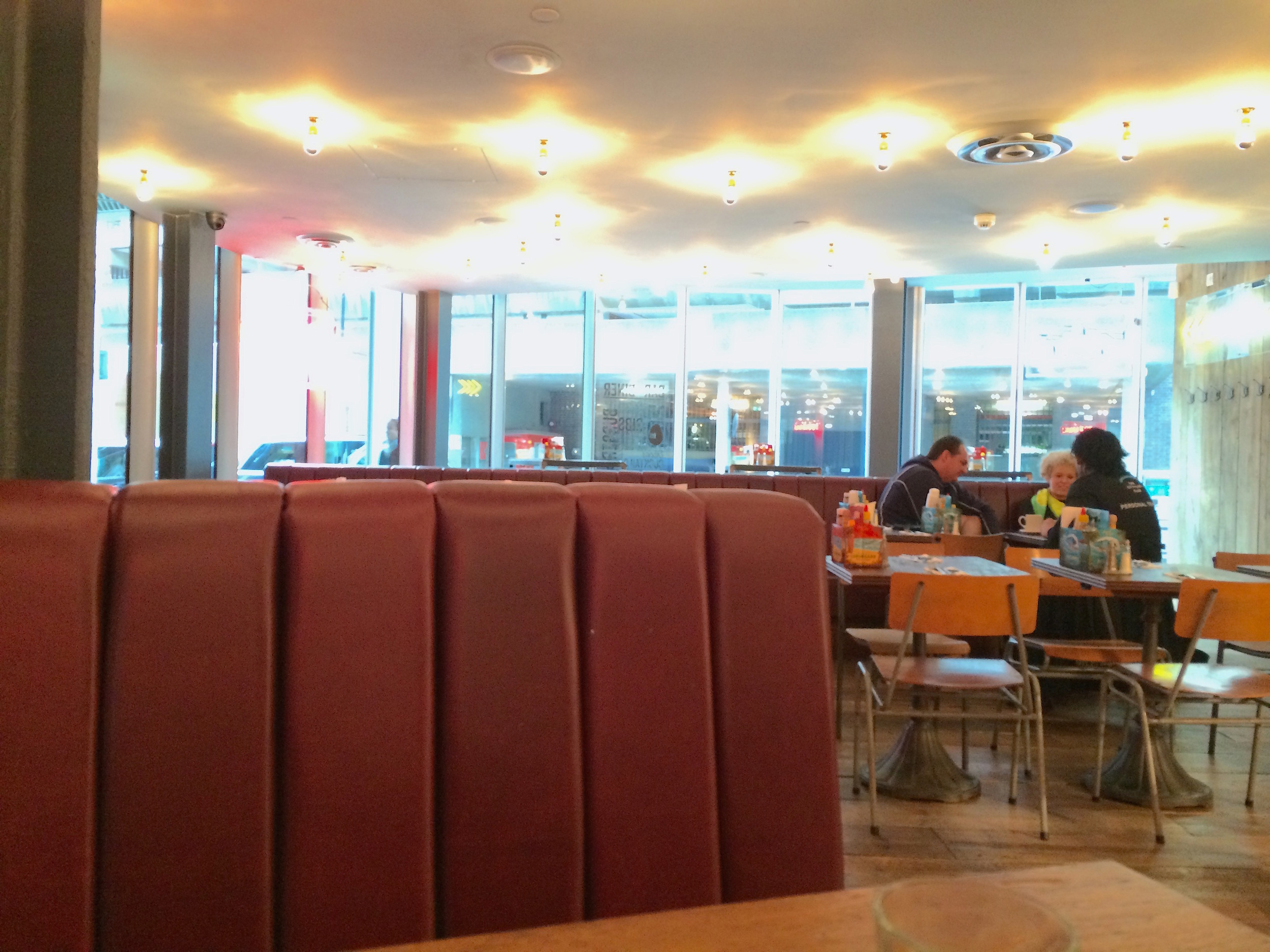 The menu is epic, supplying inventive sounding hash dishes with classic brunch eggs staples like huevos rancheros, pork ribs fried and sauced like they are chicken wings and our familiar consort, which arrives dressed in bounteous levels of thick fondue, splaying insouciantly out the sides.
The cheese, a combination of Raclette and Red Leicester, is that perfectly gooey molten consistency that duels with your fingers as you pull it from the paper, playfully sticks to your teeth as you process your mouthful whilst adding that sloppy, warm, comforting, savoury twang. The slow cooked onions nicely melds their soft textures into the cheese with a glow of sweetness, rolling around with the sharpness of the American mustard and pickles and the smooth burger sauce.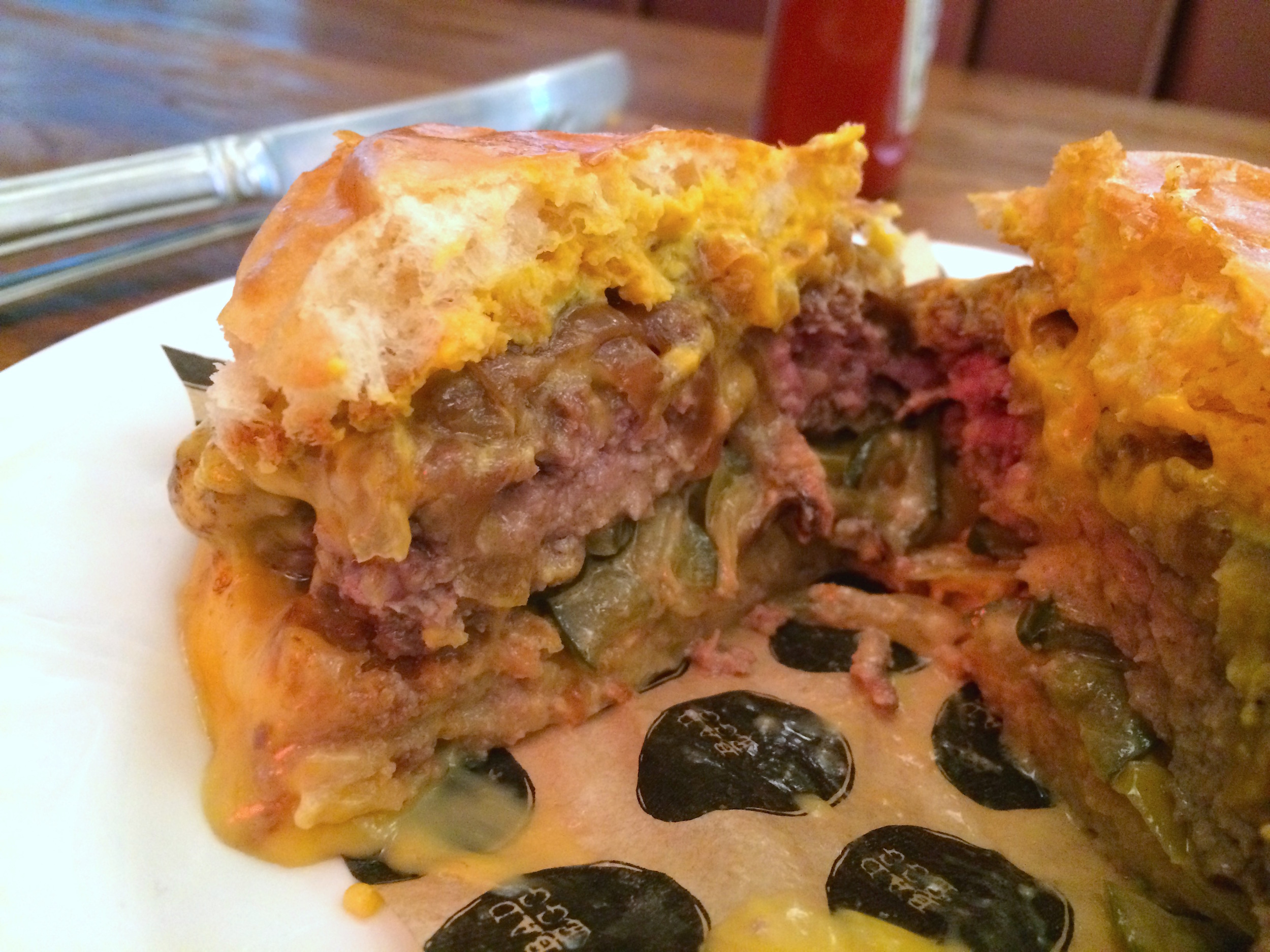 Great though all this is, it is nothing compared to what lies beneath the cheesy cassock. The. Meat. Is. So. Good. Emerging from the curtain of glorious slop is a coarsely minced patty cooked to a great medium with a crust that is perfectly salty. It bursts meatiness, with a depth of flavour to it that issues forth gladdened sighs. It dominates but yet combines with everything else so well that eat bite is a swirl of amazing tastes. The bun adds a decent chewy texture, but is really a mere vessel. It is devoured like an amuse bouche, and immediately we want another.
The cheeseburger hash consumed on an earlier visit is equally great, combining all the same flavours, just with what felt like less meat and a crispy-yet-soft cube sautéd potato hash. Similarly it disappears so quickly that the portion feels criminally small, though it isn't really.
The fries are, well, fries and would probably benefit from being consumed in one of their pimped forms. That only makes us want to come back and try them, and everything else. With the addition of a bottomless brunch on Saturdays of fucking course we'll be back. That is an event. We'll probably live tweet it.