London is the best. It has awesome parks. It has a massive brown river bowling through the middle of it that you can drink next to. It has proper old buildings to ogle as well as proper new buildings to ogle. And harboured in some of those are some fucking awesome places to eat.
But occasionally you have to get away, and we like nothing better than heading to the sea to take in the brisk, salty air, stroll along the vast stretches of coastline, and play mini golf and Time Crisis whilst absorbing double-coned 99s like bosses.
So naturally we thought we'd head to London-On-Sea, occasionally referred to as 'Brighton', to go and eat some of the burgeoning selection of burgers on offer. Brightoneers bang on and on about their quality of life and suchlike we had to see whether we could become one of them for the day.
Timetabled at a mere hour away, once we'd navigated the absolute tag-team shitshow that is London Bridge and the Southern rail network, an enchantingly gloomy Brighton greeted us. But fuck it, we could see the beach, and it was brunch time.
Billie's
On the corner of a couple of ordinary roads, away from all the bustle of Main Street Brighton, sits a pretty nondescript cafe; blue gingham vinyl tablecloths, a mixture of sturdy and fold-away wooden chairs borne out of necessity and not design, with simple vases containing a few blooms for colour. Occasionally, excitingly, simple facades oft belie something special within and Billie's is one of these, serving American-style dishes and speciality hashes with a distinct English bent.
The Egg Swiss Hash, which we improved by adding bacon to, was a colossal plate of soft homestyle crispy-fried potato hash with rashers of back bacon and perfectly poached eggs almost consumed by the sheer volume of melty-supple grilled cheddar and swiss atop it. It was a proper tasty dairy carb avalanche that, even when twos-ing it, left us stuffed. Whilst it must win awards for being the best hangover cure in this town, we may have made an error by making it a precursor to an entire day of burgers.
Nevermind. Onward.
Lucky Beach
As the whimsical name would suggest this gaff, doling out burgers to the daytime/early evening crowd, is stationed in one of the arches right on the beachfront so you can grab a table practically in amongst the pebbles if you so desire. Nine degrees Celsius in early March could not stop us supping some alfresco beers and taking in the view.
Their potentially trademark-infringing Double Double is a delightfully colourful brute, layered like a savoury trifle: fresh pink, pickled onions give a solid sour hit with hairline sweetness, a double layer of yellow cheese slices is melted to a yielding gloop with the two full-nelson-ing some exceptional crisp smokey bacon chunks.
This is all placed on a patty seared with a good inky crust and a pink middle of some really flavourful aged beef, encased within the lesser spotted poppy seed bun. Interesting choice. But the bun itself is bouncy with a solid bagel-like chew. This sets a pretty high standard for the rest of the day.
The stilton and bacon fries were strong in the fry and bacon constituent, just lacked enough blue cheesiness in an overly mayo-like dressing.
Their opening times are LIES. Closed.
NEXT
Burger Kult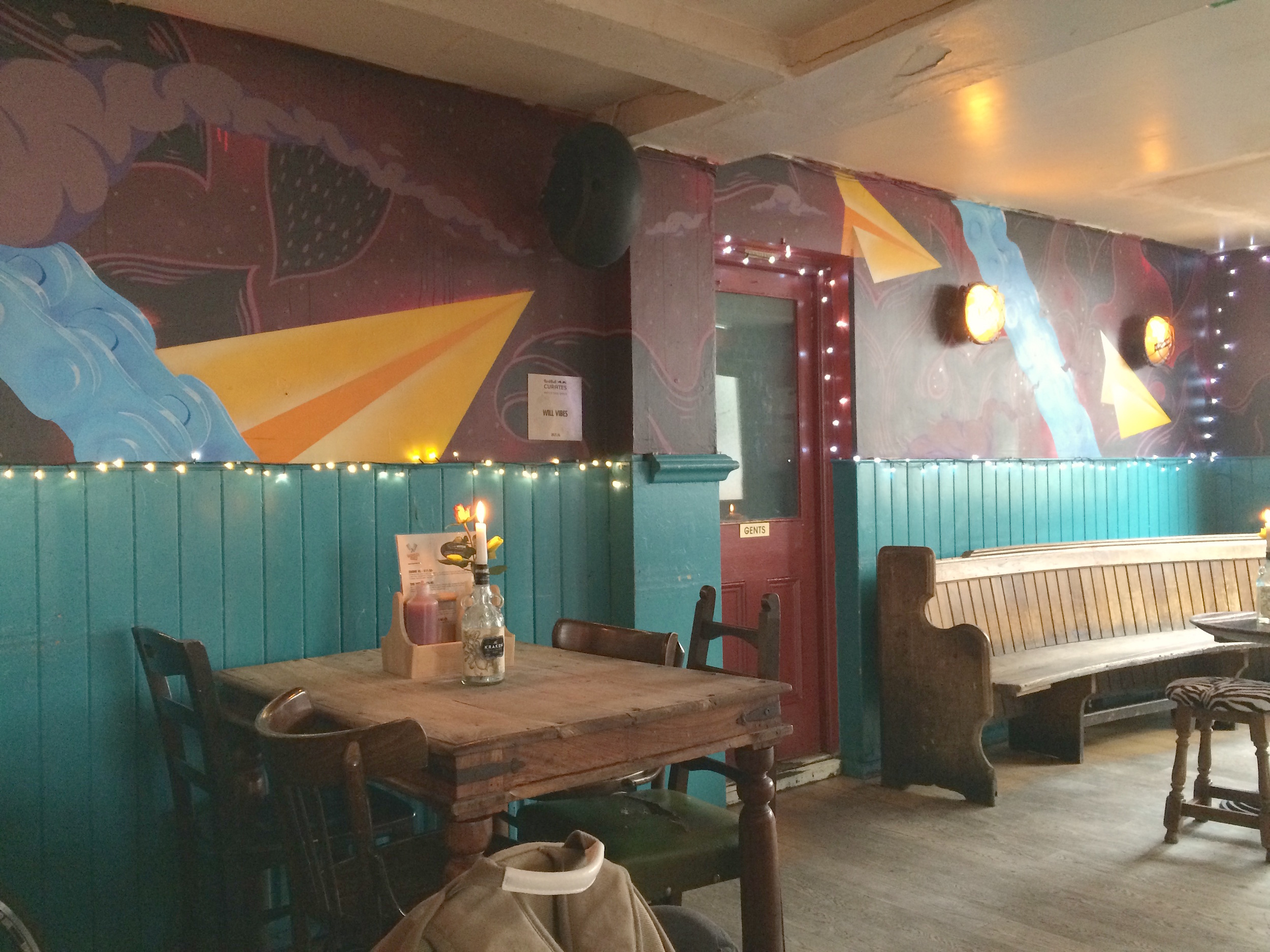 The Mash Tun seems a good fit for these guys, as it is the Brighton equivalent of a Scream pub - regular student haunt for us way back when all we wanted was cheap beer and multi-multiple shots of apple Sourz. The bike chain artwork painted on the walls, the Einstein-in-Kiss-make-up portrait, we bet they get through a fuck ton of Fireball here.
The Kult like their burgers named crazy shit like Supermonstertruck and Swamp Thing, and each one is an epic poem of ingredients - they must have one hell of a kitchen to deal with all the different stuff they pile into these guys. We went with a Whiplash, their version of a cheeseburger.
Hang on, this seems a touch familiar. Another poppy seeded bun? Brighton must really like poppy seeds, or have some crazy surplus. And pink pickled onions too.
The patty is very competently cooked, with a pink middle oozing meat syrup. The classic mayo-ketchup-French's combi-ment mixes sweet/sharp/creaminess topped off with added tangy piquant from the pink onions and pickles. The spattering of veg is probably for show mostly, and the bun is a little dry but handles the task of holding all the sauce. It is a decent burger. With more time it would have been cool to try some of the more bolshy combos.
Brighton, you are spoiling us.
ADVANCE.
Troll's Pantry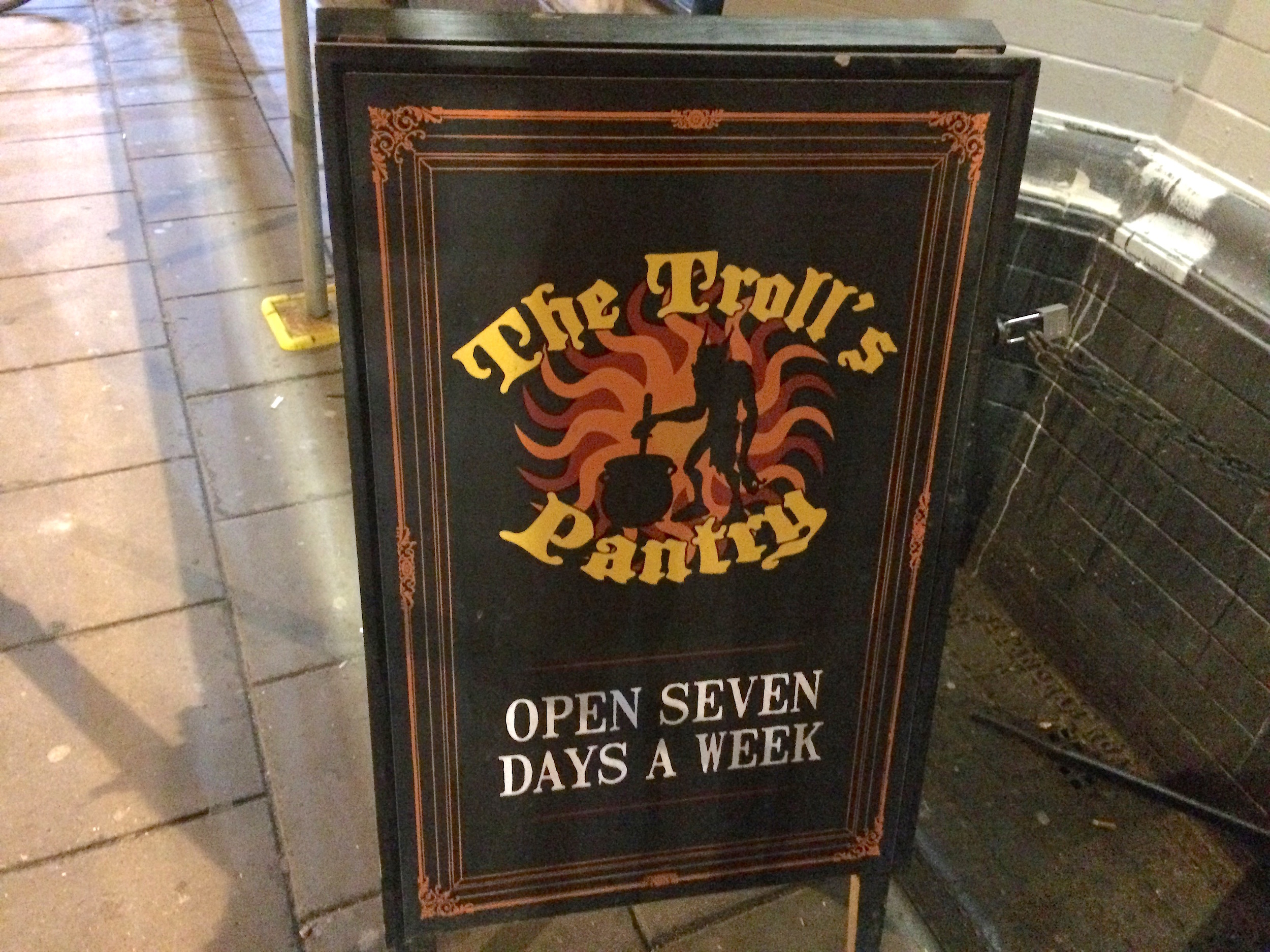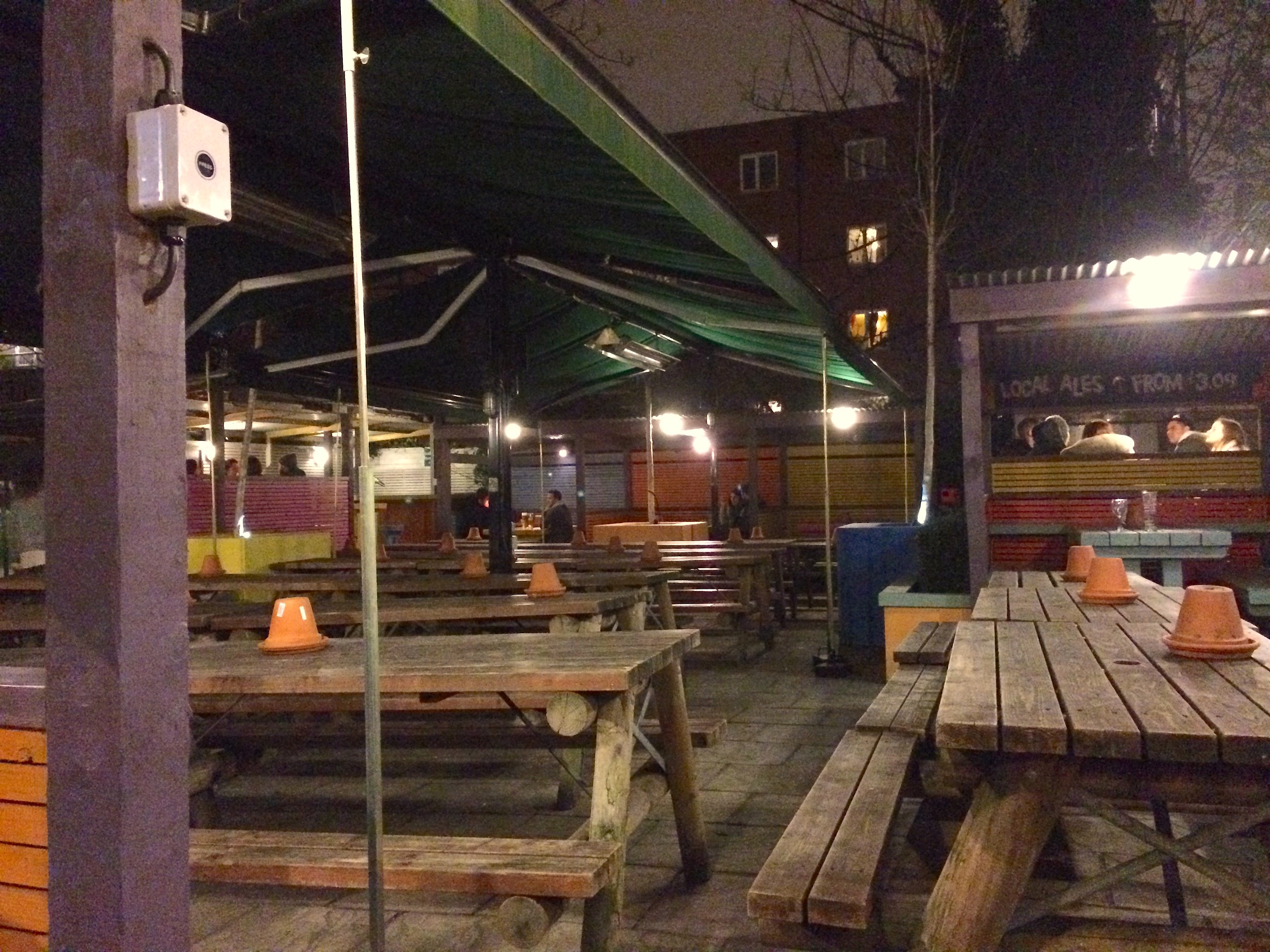 The Pantry bosses are admirable in their desire to create a thoroughly ethical burger, everything is 'sustainable', 'non-GMO' and 'seasonal'. A far cry from the ever-last cheese slices we are so fond of, almost makes us feel guilty. You get the feeling when these guys are not searing high welfare meat they are up in a tree protesting about potential new bypasses destroying the green belt.
The Hobgoblin is that atypical ale-centric gig pub where your mates who have that obscurely-named prog doom band can probably get a gig on a Tuesday. And it feels like there was a particularly big one the night before, such was the drifting perfume of heavy disinfectant. We decided to take advantage of the enormous garden out the back with benches and booths aplenty.
The two burgers we tried were high impact flavour composites: The Sussex Cheese had a thick layer of impeccably melted-chewy St. Giles, sweet yellow mustard with a layer of pickled onion sitting on top of the patty and a rough chopped red cabbage-based slaw below it. It was a fresh, savoury combination that tasted, for want of a better description, a bit like a kebab. A strange but not-unpleasant surprise.
The much-lauded, almost 'signature', Stinky Breath is like throwing an umami bomb down your gullet. The potent blue cheese, beer and anchovy mix provides the thick ultra-savoury hit, the garlic mayo and onion add that raw, warm heat and the St Giles covers it with a smooth touch-of sweet blanket. The rocket adds colour more than anything else, the intense flavour of everything else nulling the potential peppery addition. It is fucking hardcore, but in a may-have-over-egged-the-pudding way, like a punch in the face where a stiff slap would suffice.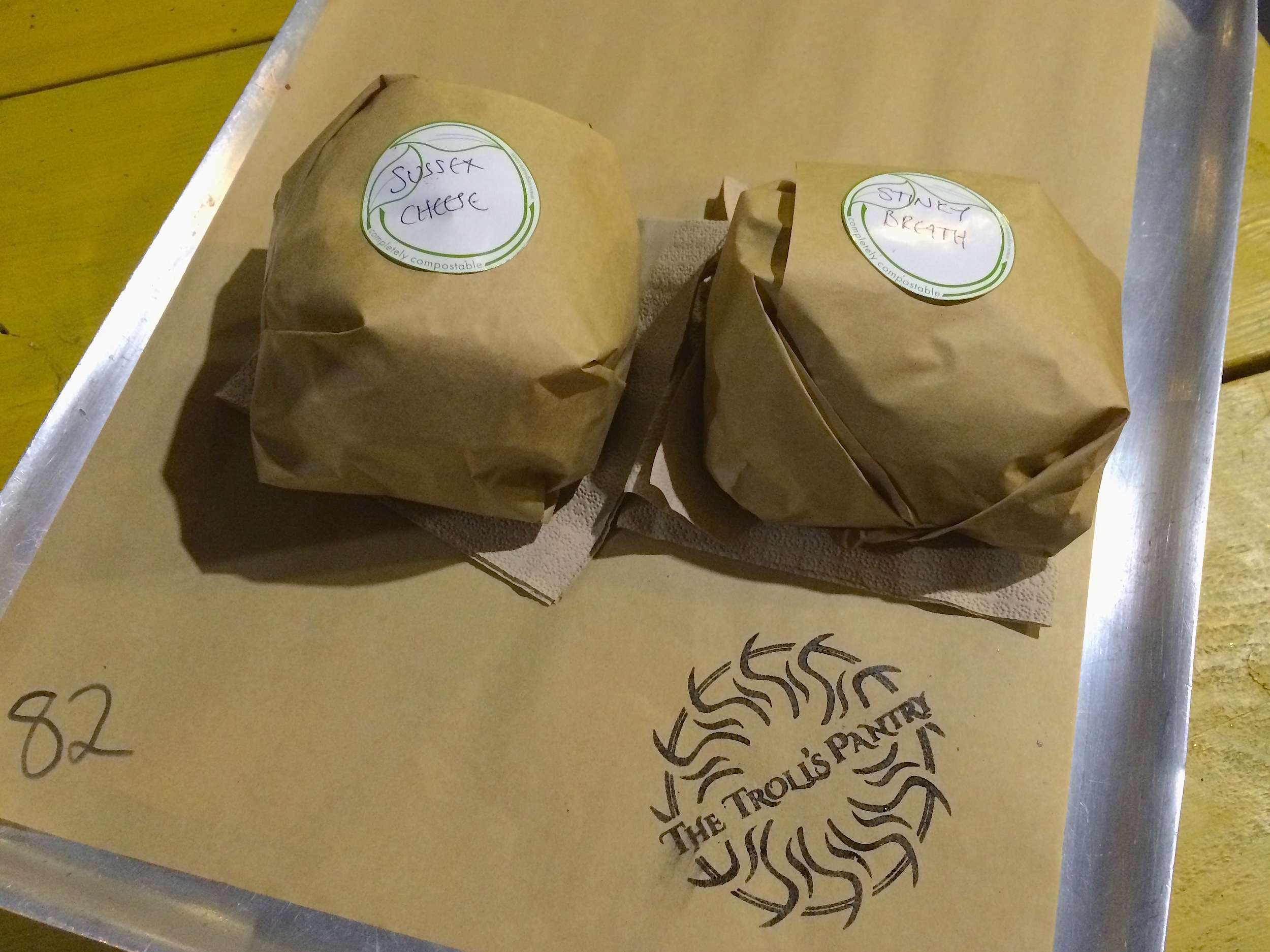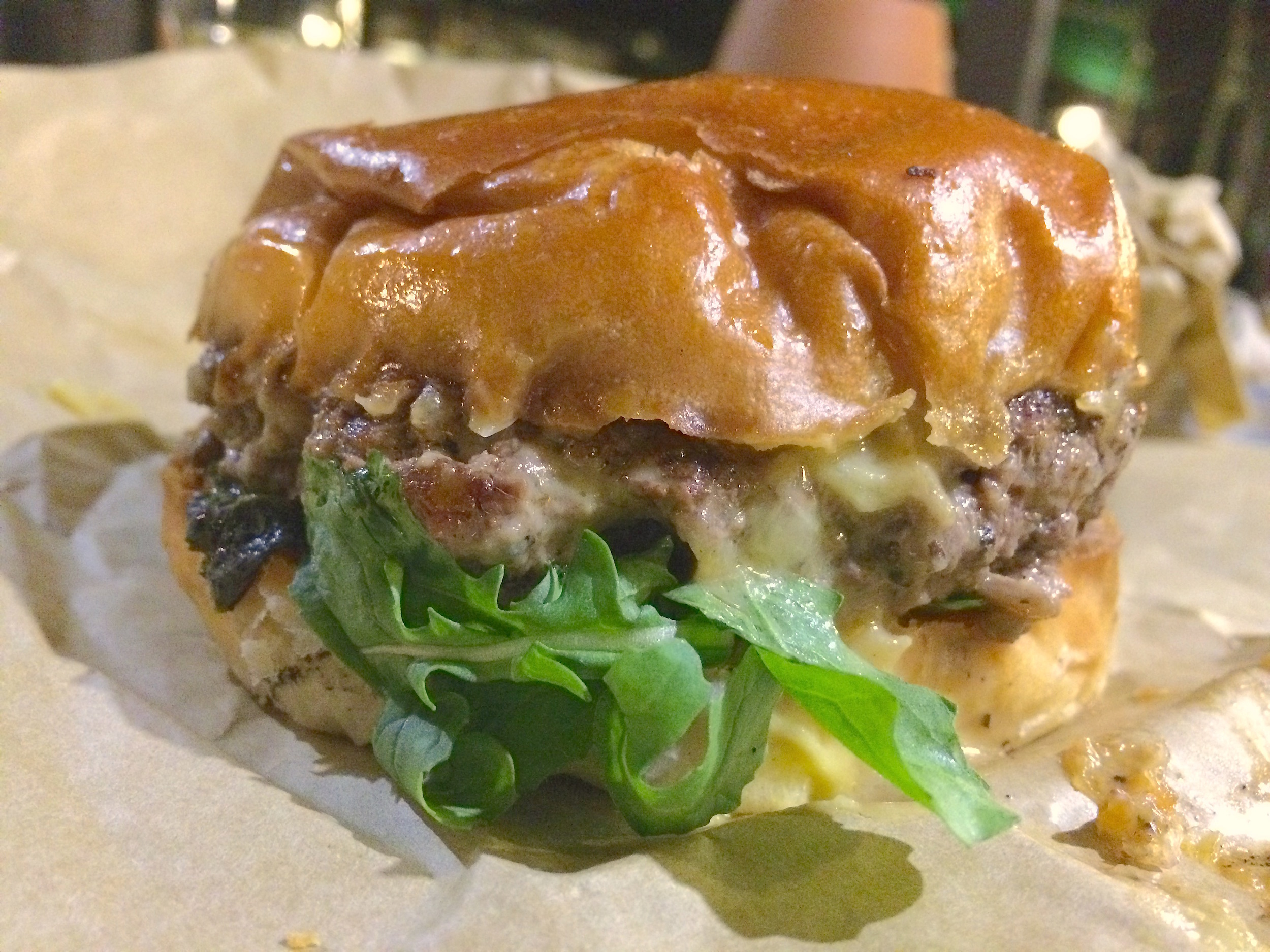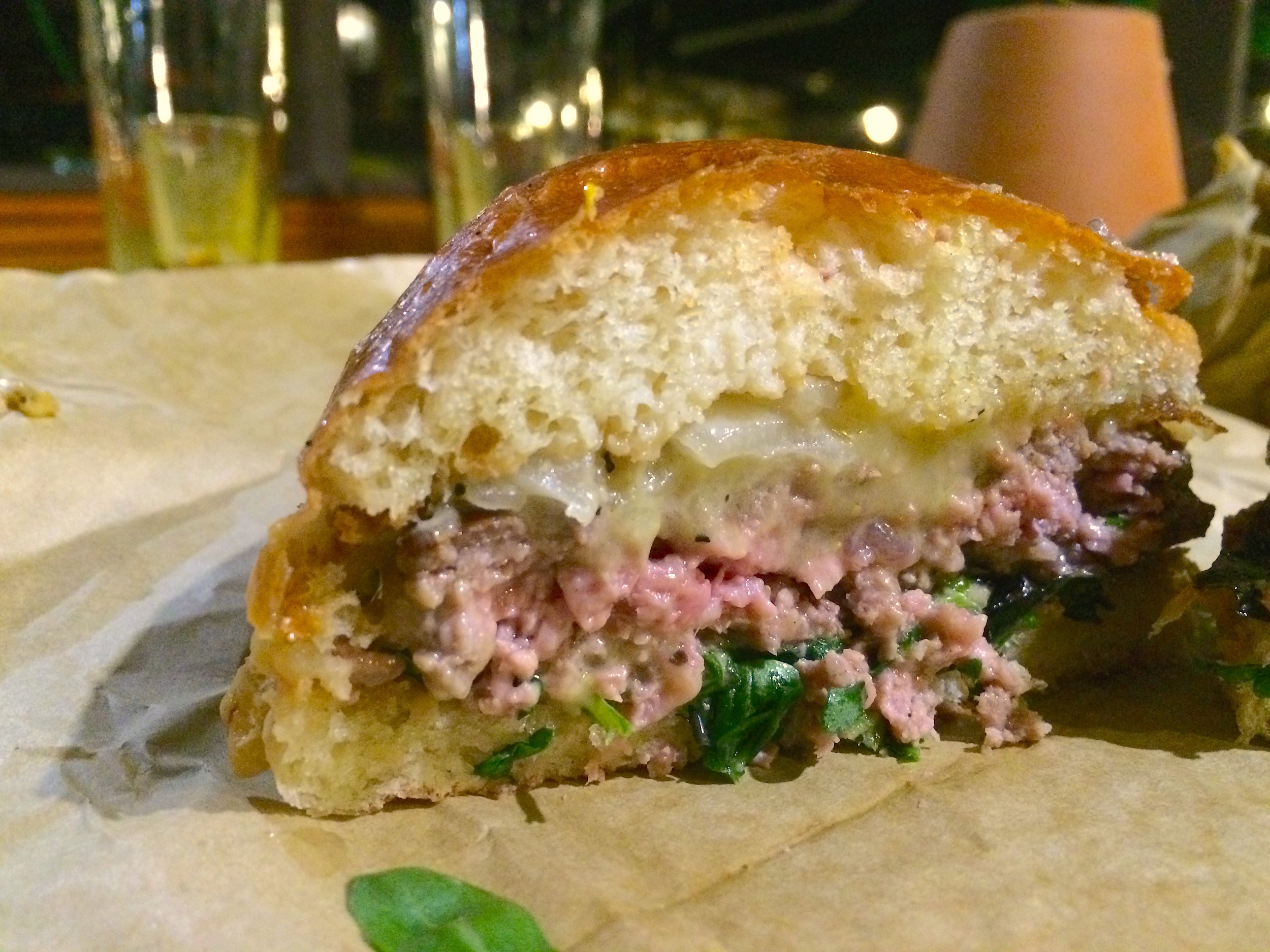 The buns are brilliant - glossy and good-squeeze soft, with a good airy texture and the ability to entertain all ingredients. The coarse grind patties are tickled to a soft pink and in places are lovely. But the grind results in gristly mouthfuls just a little too frequently, with one including a tooth-curdling air rifle pellet-sized lump, otherwise spoiling solid burgers.
No doubt the Pantry are doing something interesting though that not a lot of others are and straying from the well-treaded path of classic-style burgers that is worth a visit for that alone.
Ok, now we're getting full. We need some home comforts.
FORTHWITH TO
MEATliquor
We could not come to Brighton without hitting the first MEAT location founded outside of London. It has a pseudo Liquor feel to it, with little pods and booths making inventive use of the space, just dialled down a few notches: the music is lower, and thus so is the raucous bierhall feel. Like, couples are on romantic dates here. It is really, really clean. And well-lit. The staff are bizarrely friendly and attentive. The specially made wallpaper suggests a slightly more clinical approach to prettying up the place. It's interesting to us to see what a 'model' build for a liquor empire might look like.
The MEAT staples are all here. So full were we from everything else we stuck with buffalo'd items: the wings were fucking amazing as always, the crunchy-crisp skin giving way to slip off the bone meat slooshed with the plentiful just-enough-heat ridden buffalo sauce. We also tried the shrimp; plump little lumps with their succumb-to-the-teeth texture covered in the light crunchy batter (the stuff that covers the pickles) then doused with that sauce - the combination works well. A splendid end to a food-filled day.
---
So to conclude.
Were we to only visit one venue on a return visit, it would have to be Lucky Beach. It has the right mix of good prep, friendly service and that all-important beachfront location.
We'll be back, London-on-Sea.
P.S. The mini-golf course is a very good one. The local bowling alley is also better kempt than any in London. Proper AMF lanes. Well oiled.
P.P.S. There are not enough Time Crisis machines in Brighton.