Downtown Austin is chock-a-block with cool shit to guzzle and gulp. During big events like Halloween and SXSW, 6th Street becomes a boozy Disneyland Main Street, U.S.A. We've been to both. That shit is crazy.
But there are other areas to which to draw your attentions. East Austin is developing into the citys equivalent of Hackney, and the area around the UT Campus has some interesting places. But on the other side of the Colorado River, in modish South Congress, lies some of the best food and food trucks you'll find in the city.
Throughout SoCo you will spot what look like non-descript ramshackle car parks, but dotted within them will be vans and shacks banging out all sorts of epicurian wares. So here are a few to keep your eye out for.
Hey!... You Gonna Eat Or What?
On the corner of South Congress and Gibson, in one such trailer park stands an old bright red converted Argosy Airstream motor home, adorned with side-by-side proclamations of food quality and customer insult, doling out a small range of sandwiches.
And they are next level impressive. The two-layered Shiner Monte Cristo uses a slightly sweet honey wheat bread to enclose and separate pit-smoked ham and cheddar on one side and mesquite-smoked turkey and provolone on the other. The mild cheeses compliment the tender sliced smoked meats as each side conjointly contrasts the other.
The icing sugar topped batter is unfeasibly light, thin and crispy, with no oiliness penetrating the sandwich at all, and has a kind of sharp finish from the Texas-favourite Shiner Bock beer added to it. The smooth cherry and fig jam is the perfect sweet-yet-tart accompaniment, a candied jab helping to enhance the sweetness of the bread. This sandwich deserves superlatives rained upon it like Lil Wayne chucks dollar bills at a strip clubs, as it is texturally perfect with a fantastic balanced blend of tastes. If Mama's version in San Francisco had thusfar been unchallenged for us, this was the one to match and possibly surpass it. This is a must must try.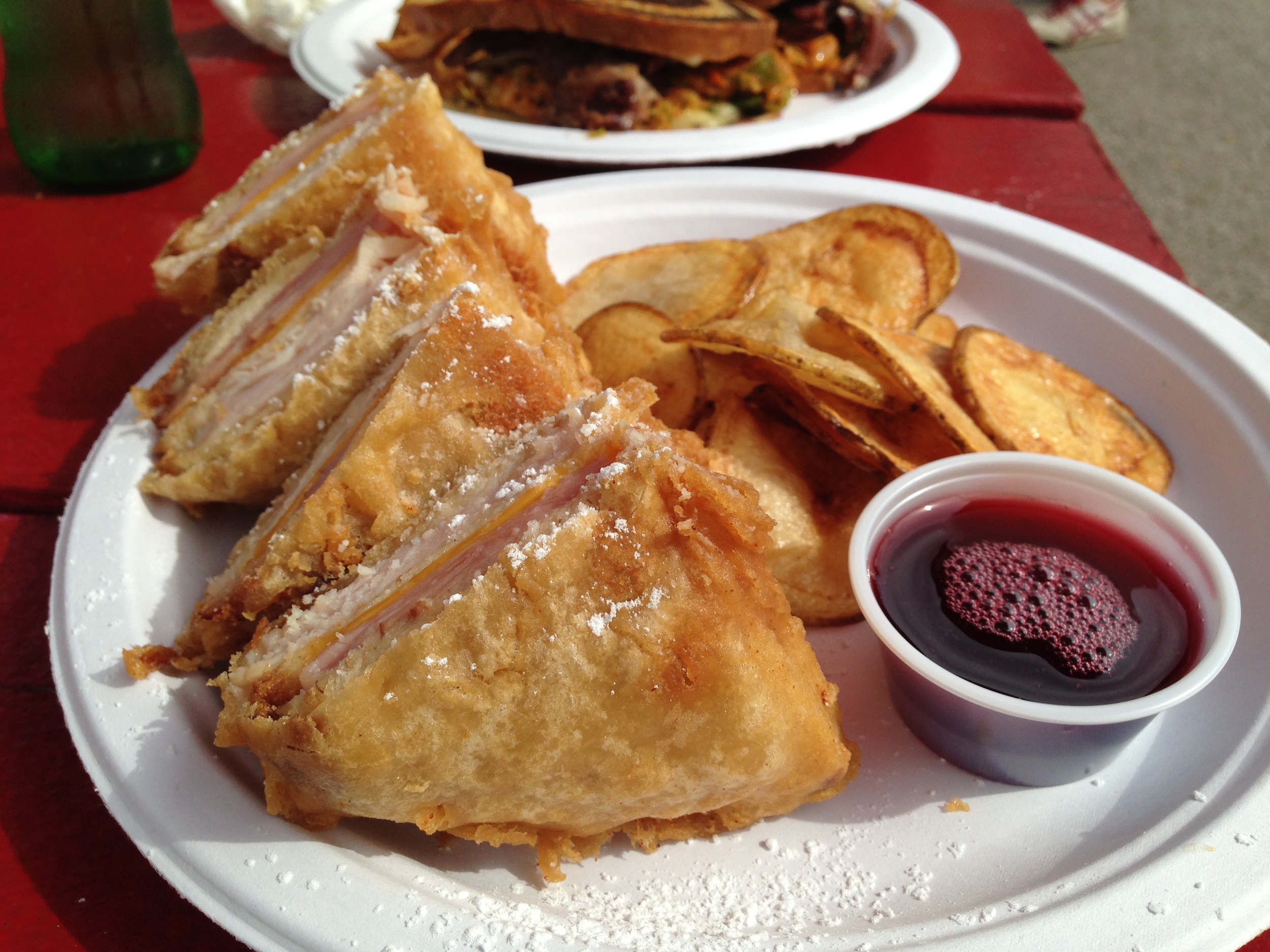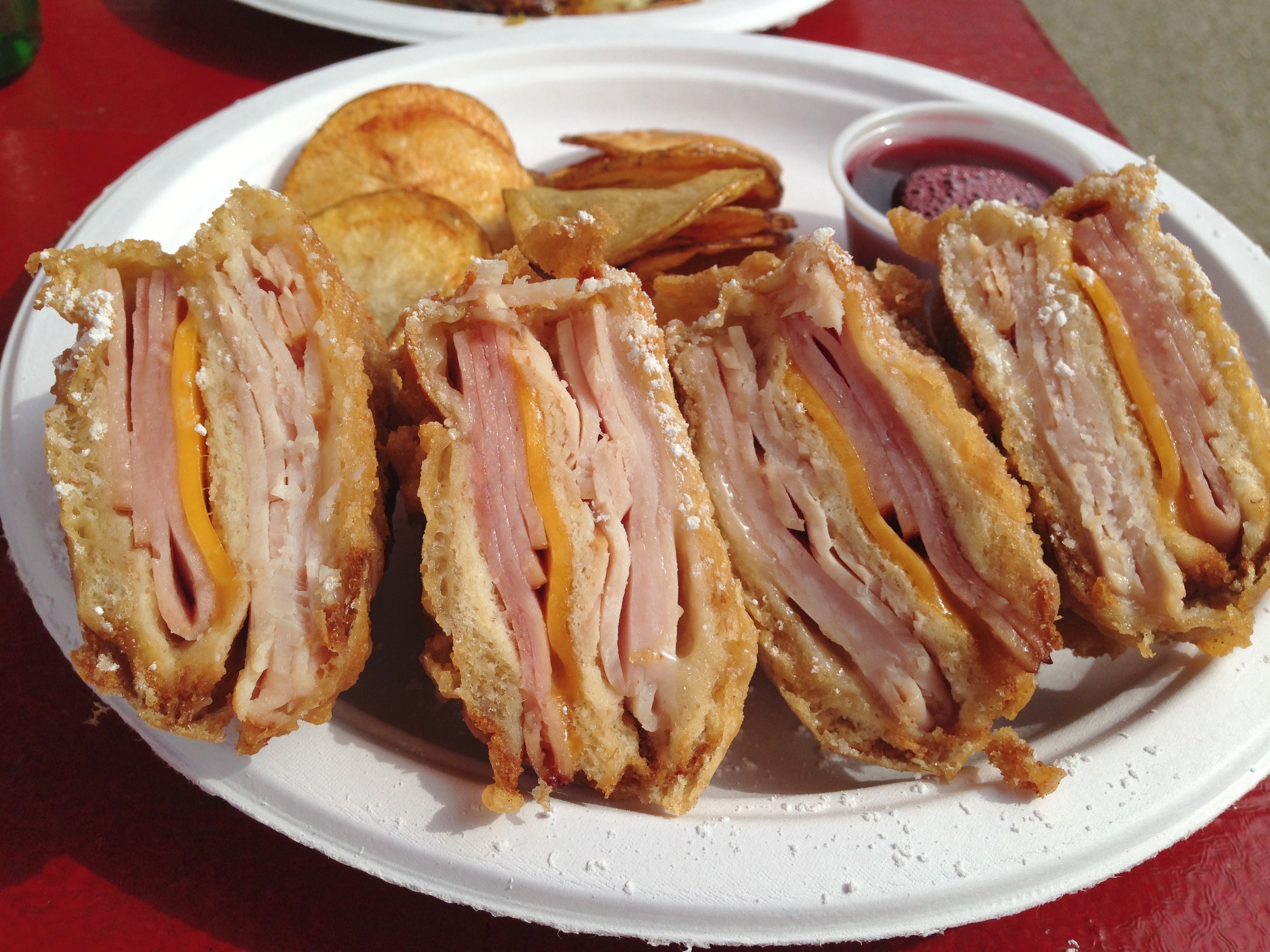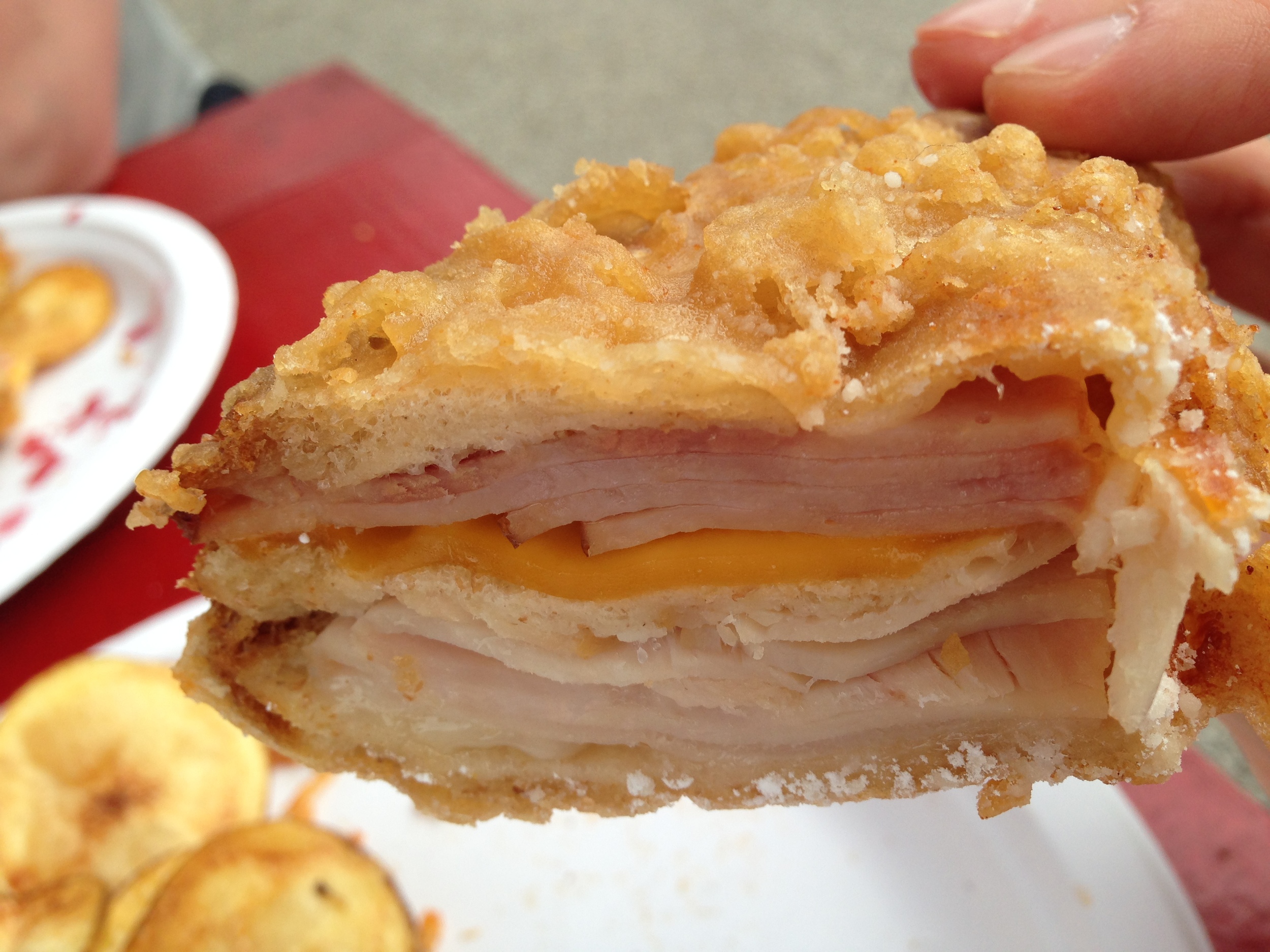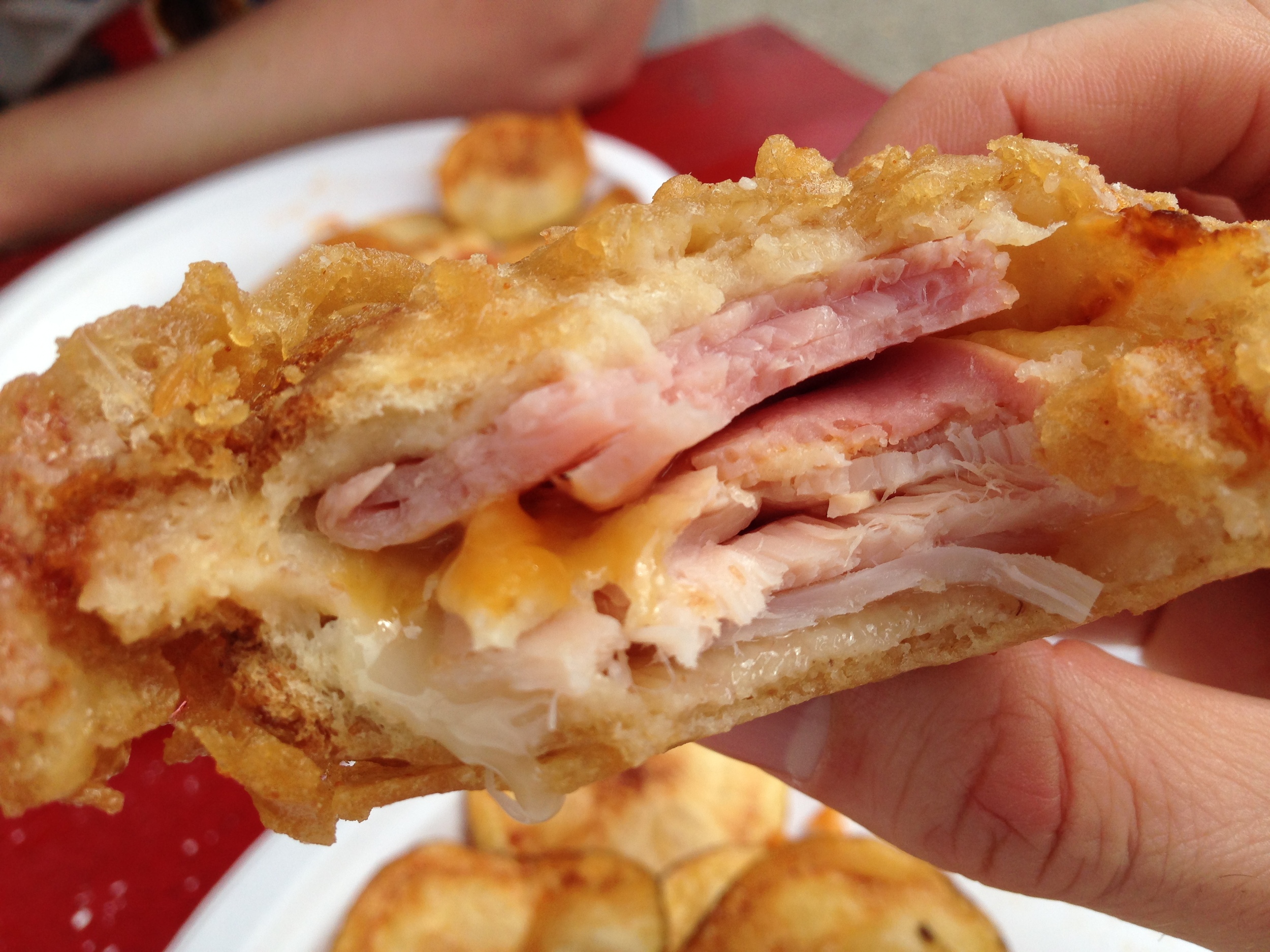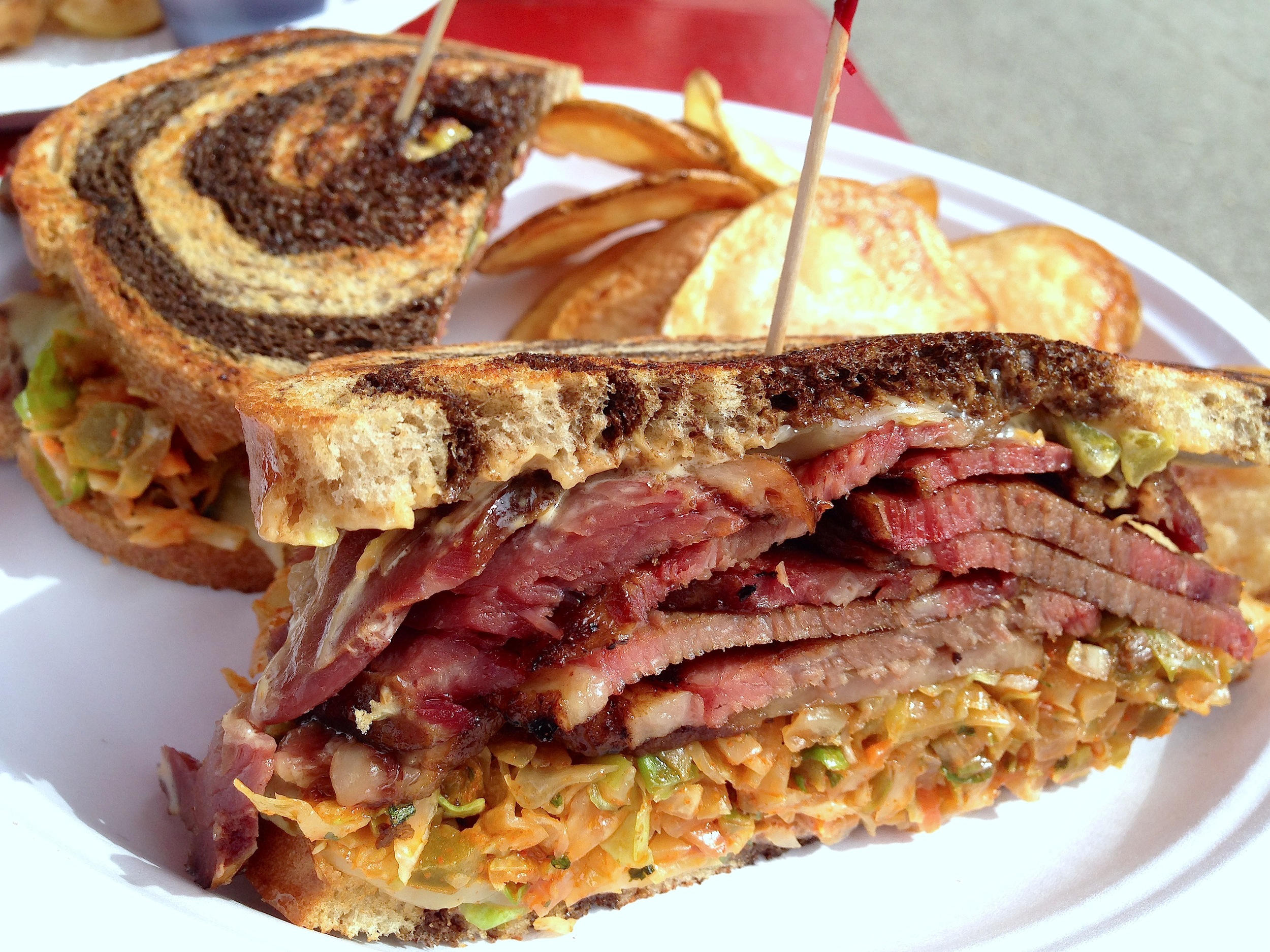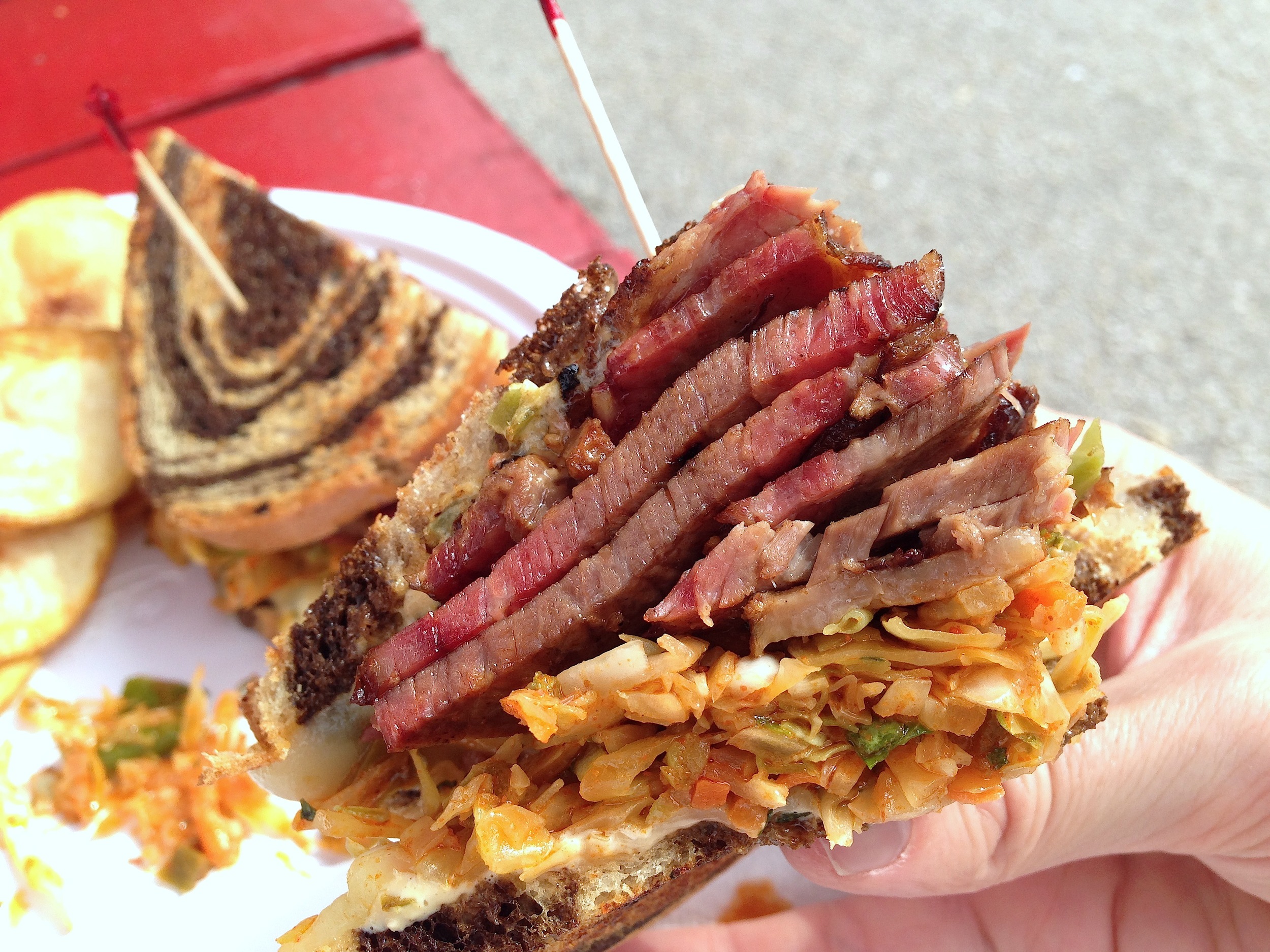 The day's special, the Southwestern Reuben, is also incredible: Nice sized slices of deep pink-ringed smoky Brisket are covered in melted pepper jack and sit on a crunchy spicy slaw with no lack of heat to it. A habanero Thousand Island dressing adds that tad of sweetness while throwing an addition kick of heat as well, making it a zippy mouthful. The eye-popping marbled rye holds the sparring spices together with a subtly strong grip.
The food is more incredible considering it comes out of such a miniscule vessel. And the self-reputation as Austin's rudest business must be a joke of some kind, as the dude who took our order was solid as and chef/owner Eric came out himself with our order and explained what had gone into our order with uncommon appreciation.
Gourdough's
Half a mile away, on a corner of South First lies another gaggle of trucks, the most notable being the renowned Gourdough's. We've visited before but it bears repeating, these are not doughnuts in the traditional sense. Described by our travel companion as 'DinnerNuts' due to their sheer fucking size, the consummately fried soft and plumate dough serves as plate for a range of different toppings.
This time we went for a main and dessert. Hitting a 'Porkey's' first, the rich simple meatiness of the Canadian bacon worked well with a surprisingly subtle fondant-like cream cheese, but it was the mind-bogglingly good sugary-piquant jalapeno jelly-jam that brought the flavours together in an uncommonly pleasing way.
The 'Dirty Berry' is unabashedly nectarous, with the grilling of the strawberries bringing out the natural glossy sweetness of the fruit matched up against the sheer fucking balls out thick, sloppy chocolate fudge and additional chocolate drops for good measure, with the donut acting as the savoury contrast - if you can believe that.
All of the combinations sound equally intense, but the Fried chicken topped 'Motherclucker' must just be incredible.
Mellizoz
The smells emanating from this taco truck may cause you to shuffle next door while you are waiting for your doughnut order. While Austin is awash with great Tex Mex options, Mellizoz's intriguing ingredient combinations and size to price ratio makes them a solid option if you are about at breakfast or lunch time.
'The 04', with scrambled egg laid on top of thick pinto beans and melting-soft avocado intermingled with bits of bacon, is an appetizing breakfast option topped with crumbly Cotija cheese for a slap of saltiness. The Cotija appears again in the 'Slowrider' as a opponent to the sweet shreds of caramelized onions covering the moist and fall apart braised beef, with coriander adding an almost citrus-y freshness. The 'Bowman', whilst not as adventurous or successful, is still a fresh mix of Salsa Fresca covering chunks of roast chicken with a palate sobering fresh spinach thrown in.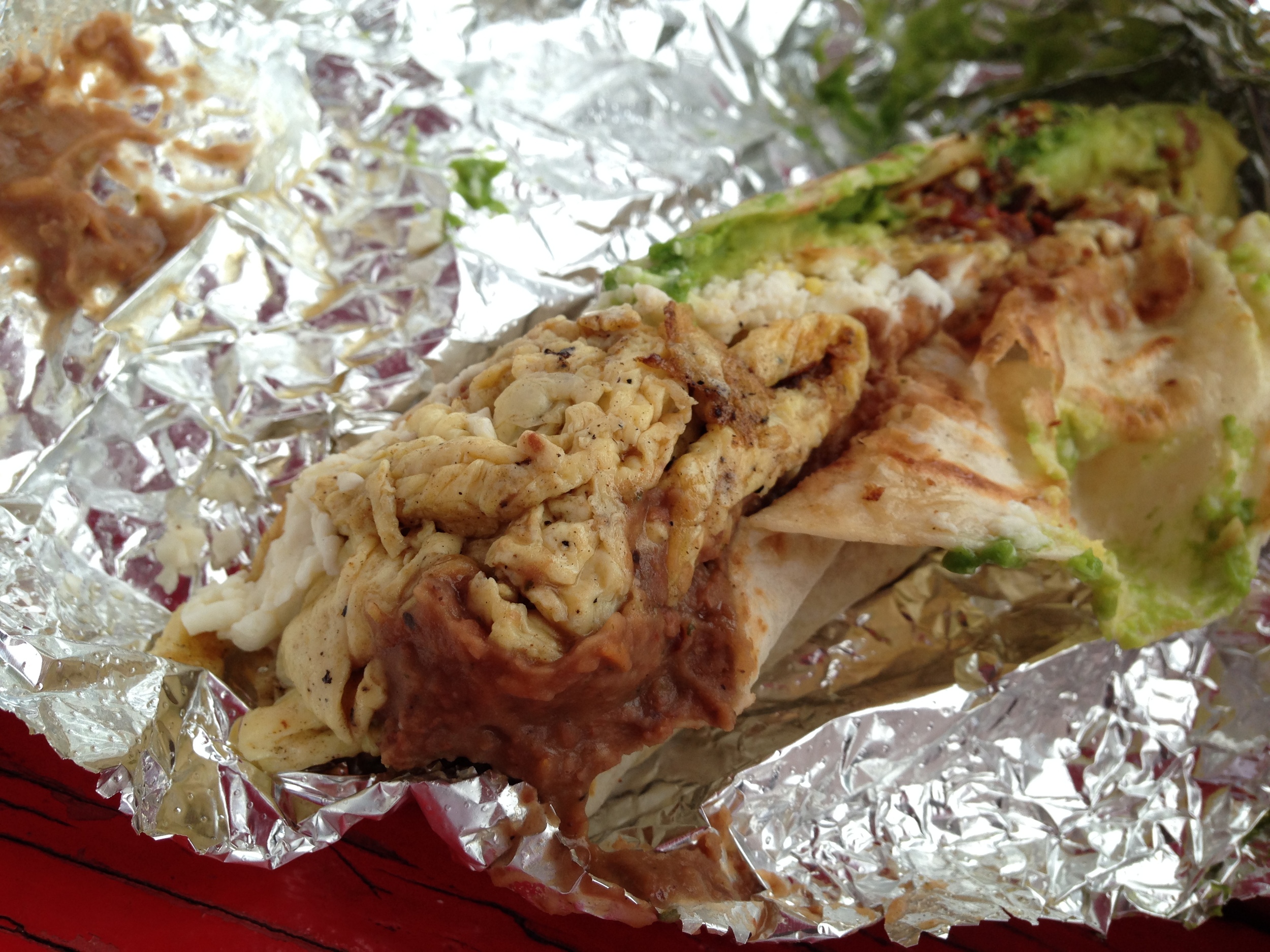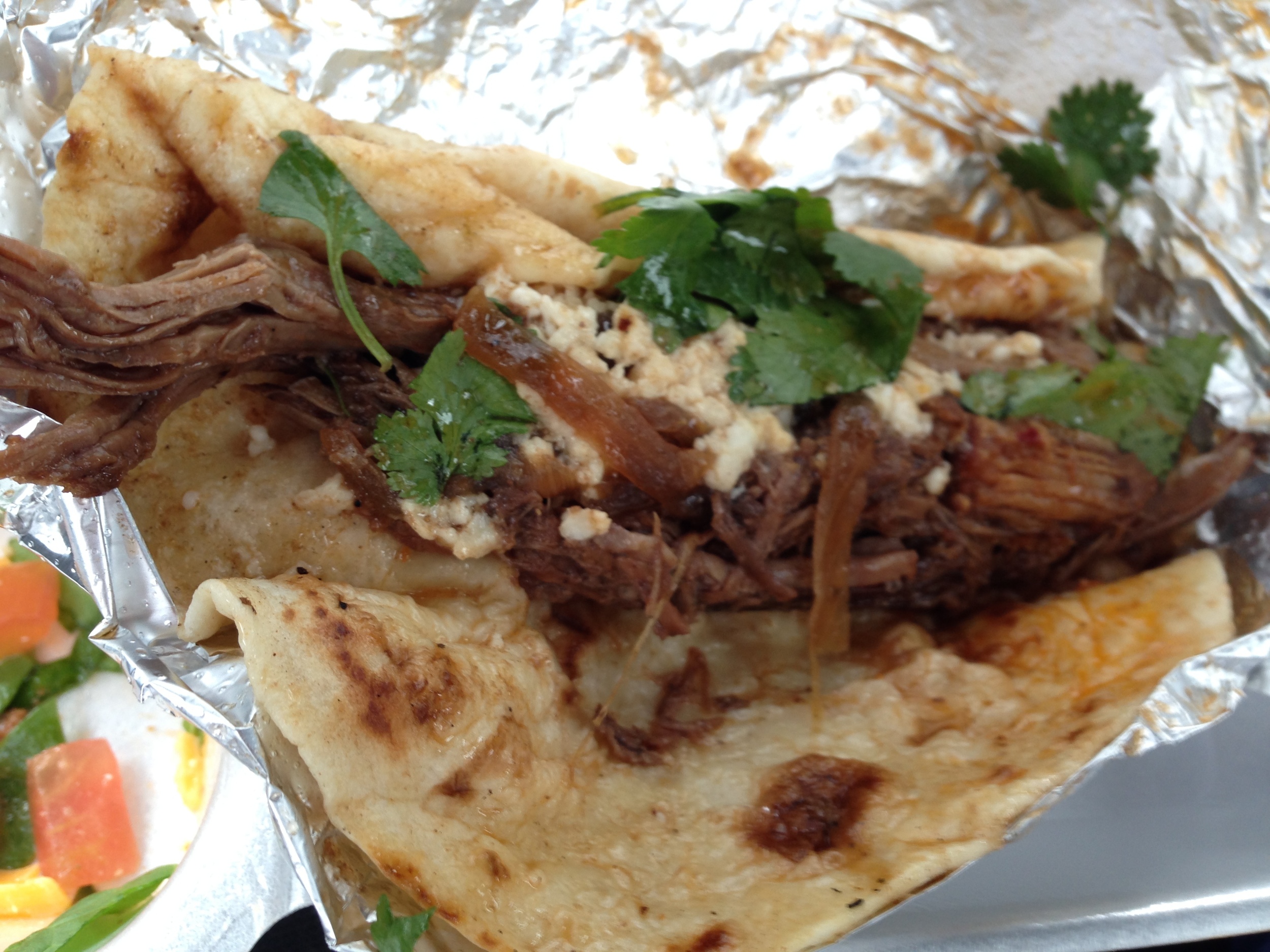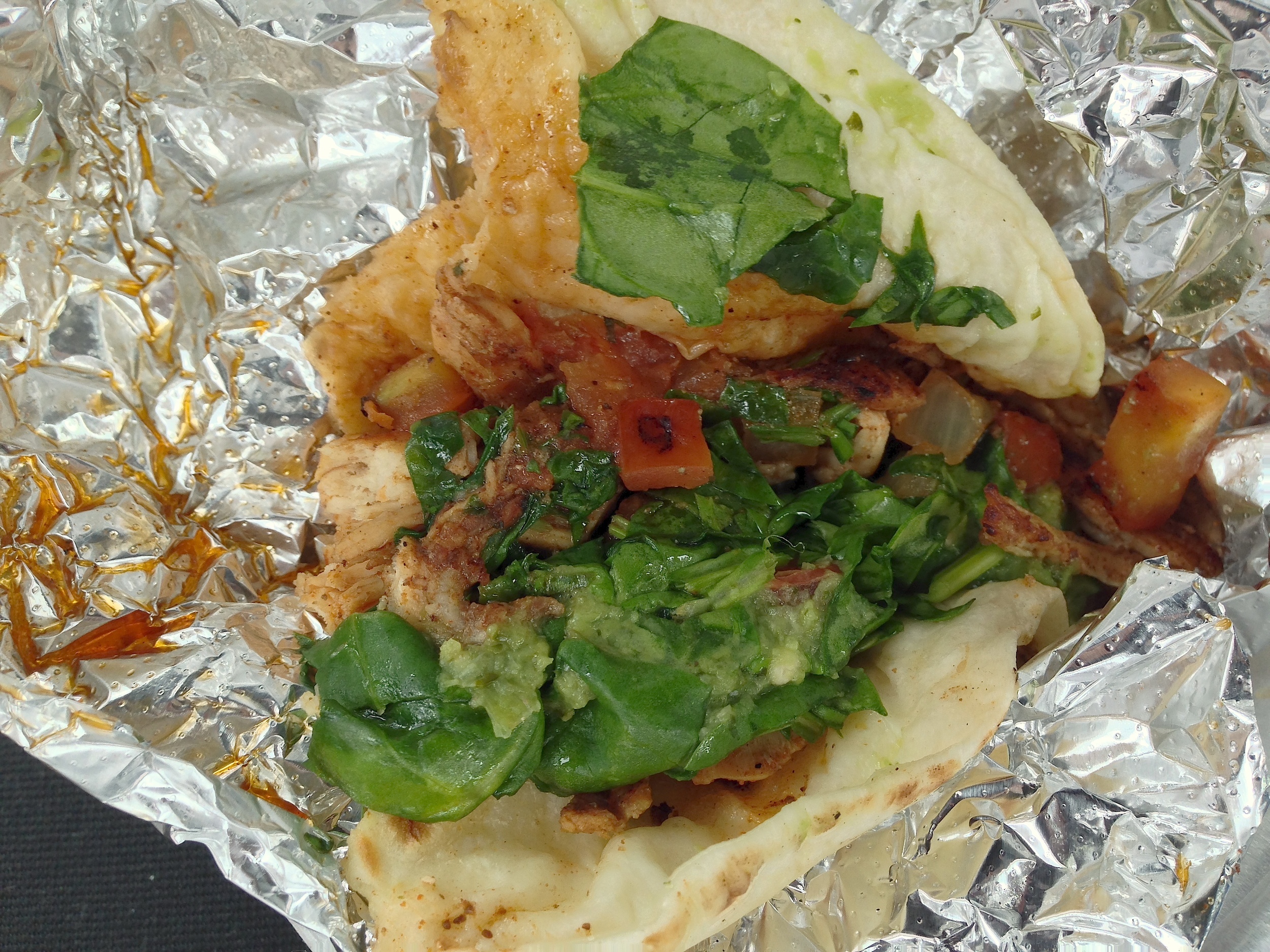 Shuffling along again we found the heavily tarpaulin-ed La Barbecue. This place is another twist in a long and incestuous Texas barbecue story, playing out like a series of 'The OC' except everyone involved can smoke some sick meats.
Formerly JMueller BBQ, the truck was run by pit legend John Mueller and sister LeAnn (grand-siblings of even bigger Texas legend, Louis Mueller), until LeAnn sacked John for alleged embezzlement from the business. Cue the change of name and employment of pitmaster John Lewis, who had formerly worked with Aaron Franklin at Franklin's (Did we mention that Aaron Franklin was a cashier for John Mueller back in the day). Phew, enough of that.
We had made it only in time to try a tub of their chopped brisket, what some people dismiss as the leftovers. If these are leftovers then fuck it, we'll eat ALL the leftovers every time. The tub was a menage of dark pink flecked brisket, supersoft chunks of meat and the odd nugget of some charred edges. The oak-smoke was evident in every bite, and the rich salt and pepper bark intermingled with it was brilliant. It did not need sauce, but trying it out revealed a very subtly sweet barbecue flavour that was decent indeed.
Our only regret was we didn't buy more of it, as when we returned to get seconds it had sold out.
(NB: They have now moved to 6th and Waller on East 6th)
* Rob