Social media has Orange Buffalo as the seemingly unchallenged wing connoisseurs of the Brick Lane turf. And they are good. Wing Fest 2014 winners good.
But.
Orange Buffalo close at 8pm most days, and that is when they don't occasionally shut up shop early or rain stops play because they are outside, not an appealing prospect when winter is coming. And if you want to quench your chops with a nice tin of your favourite lager beer the Buffalo doesn't serve it, so prepare to have to circumnavigate the Ely's Yard militia, jobsworth bouncers ready to stop anyone carrying anything even resembling booze from getting near the place.
Alternatives? You could trek over to Old Street and MEATmission. But, there is a closer option literally round the corner, just off the serendipitously named Chicksand Street: a bricks and mortar operation with regular opening hours and a liquor licence. Sounds like the goose just shit a massive golden platter of bird arms, and named it Sticky Wings.
These are deep-fried, awesomely crisp-skinned wings. Cooked to order, they were plonked in front of us still steaming. The glossy gleam of the familiar orangey-red buffalo sauce, pretty clearly made with Frank's as the signage in the gaff suggests, brought the familiar kick and heat which had penetrated the skin well giving it a crunchy intensity before hitting the soft meat.

These are pretty damn close to standard American bar-style wings, with a good heat trash talking your tongue into pleasing submission and a touch of that endorphin-riling lip sting. You want to be eating them whilst watching huge widescreen TVs showing dozens of sports and drinking light beer.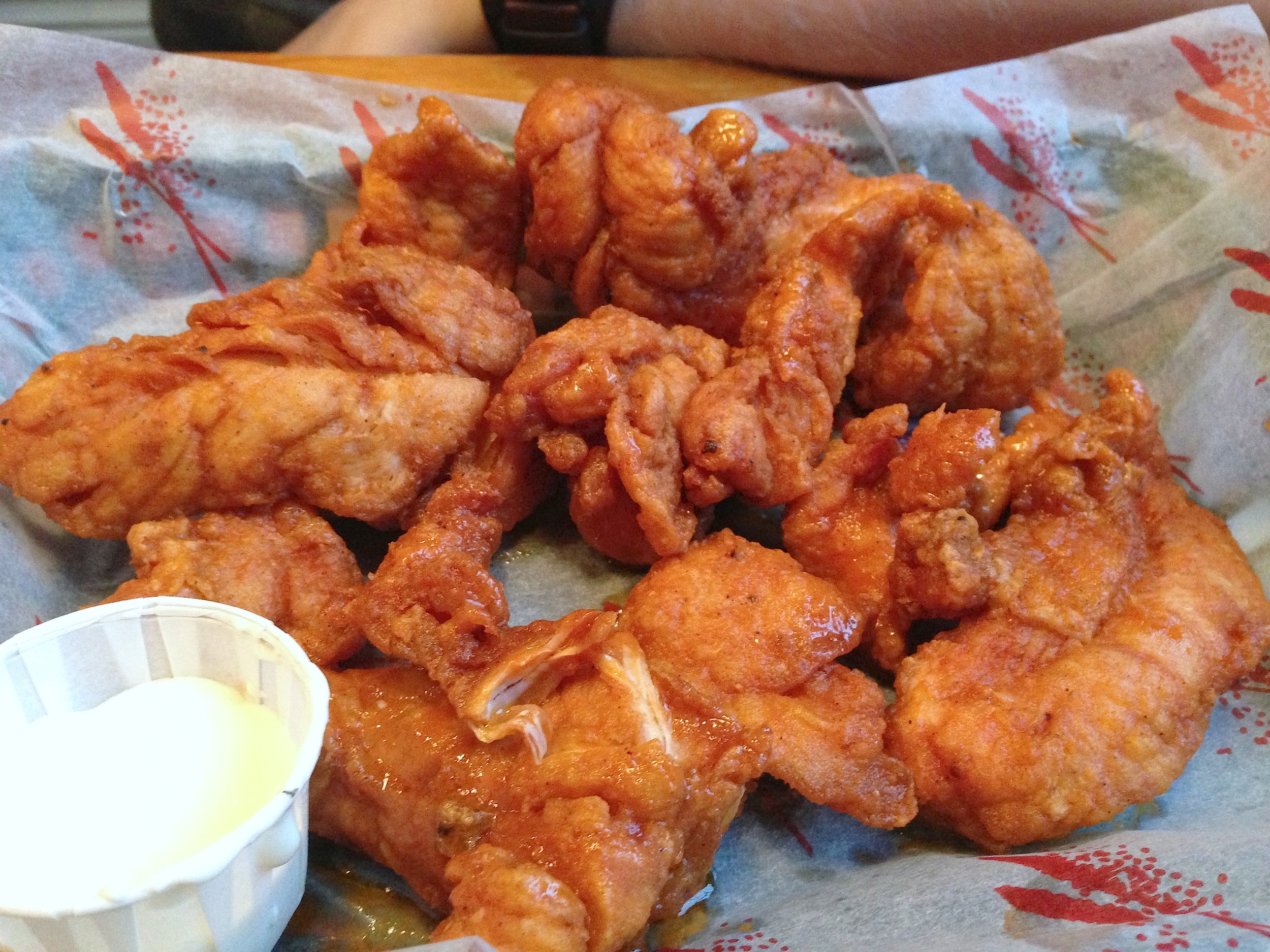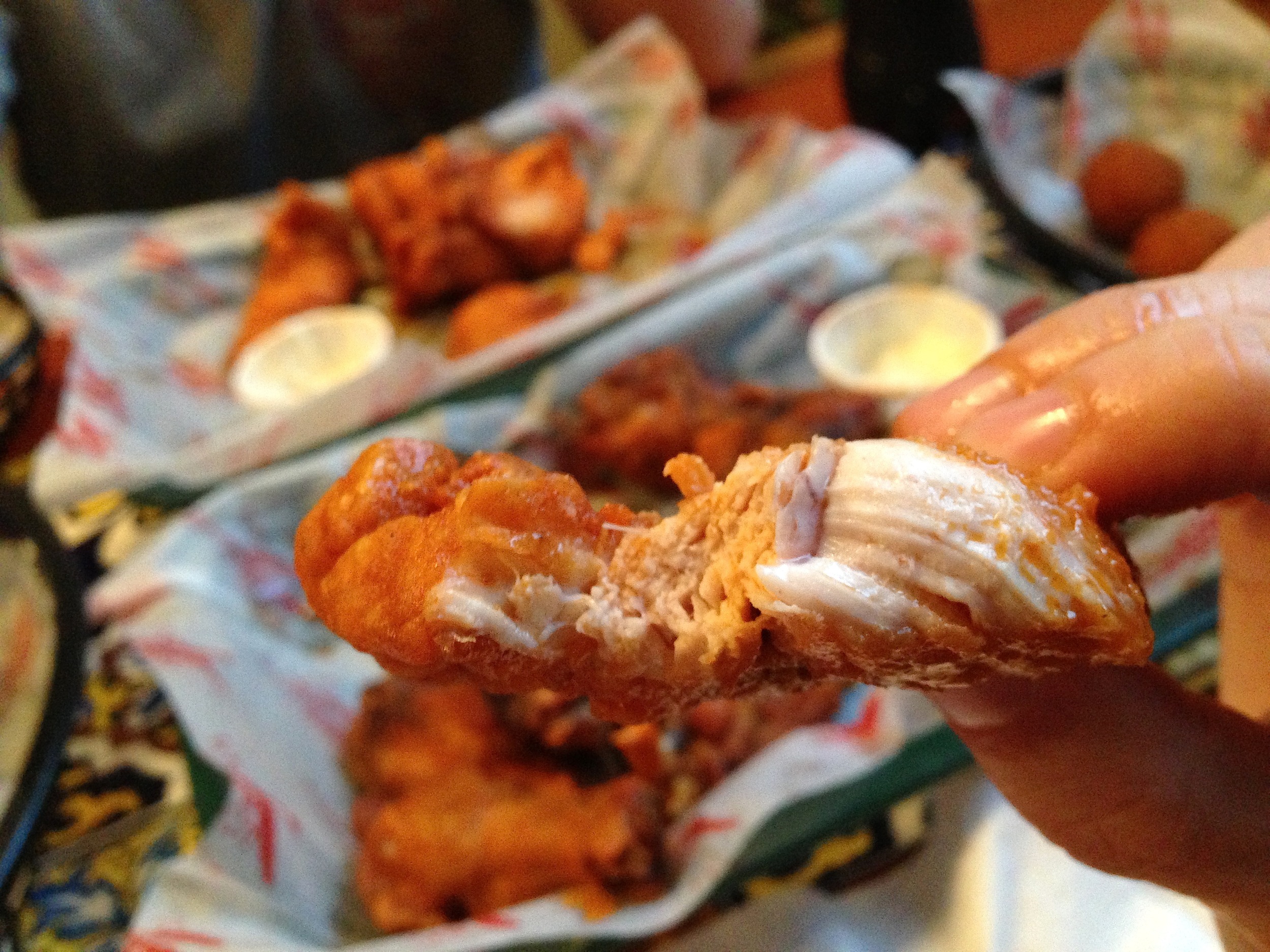 The boneless options are hulking clumps of white breast meat coated in a thin batter layer that thirstily soaks up the sauce, turning it into more of slightly crunchy glaze. It means the outside lacks the mucky sauciness that we prefer but there's no need to drown them in dip, unless you want to, as the well-cooked chook is nicely moist.
Ignore the UK portion size on their menu, it's the American options on their menu that will engage your eyeballs showboating nearly double the wings. Portions come with fries, but for the carbohydrate intolerant and polite these delightful folk will substitute the fries for a few more wings. There are a range of sauces too, including a hot one for those in need of a food challenge. As an aside, you can grab some balls too, bread crumbed spheres of fresh-n-spicy semi-molten cream cheese with flecks hot jalapeno amongst it.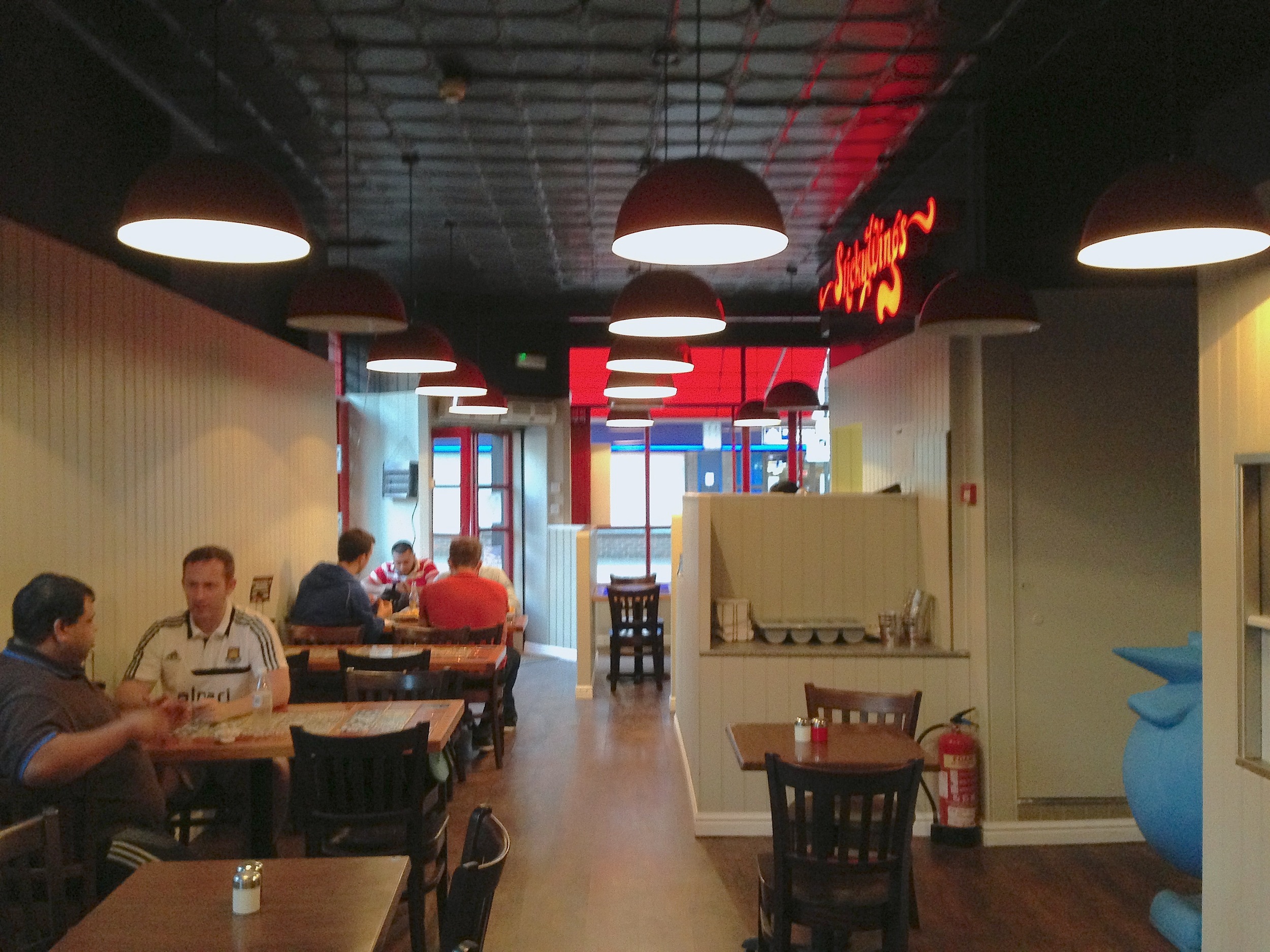 StickyWings is an unassuming place. Bar the Rolling Stones affected signage above the counter the place is much of a non-event, very basically kitted out with cream-painted walls and basic furniture. They have recently added a big screen showing sports to the back of the place, but could do with a few more. Fuck it though - where there are decent wings we will be, especially if it is indoors and it is cold.