Way way back, in the skeumorphic days of OSX v10.8, we hit up Netil Market (home of the Lucky Chip van) and had a sausage and egg breakfast sandwich from these guys. It was like a super-seasoned homemade McMuffin. And lo, it was good.
And we had them on the Boulevard at Kerb Kings Cross too. Quite a few times. Such a handsome bunch, serving an altogether fetching breakfast offering.
It has been a while since then, but we've been keeping an eye on them, consistently mistaking their Twitter account for the musings of Observer Food Monthly. They have been tirelessly touring the festival circuit in their Carry On era ambulance and a winter stint up in Leeds' innovative shopping center street food court, Trinity Kitchen, had OFM honing their burger construction skills. The meaty fruits of their labours have been transported beyond The Wall, back to Dalston where they have implanted themselves in the Kitchen of the Three Compasses, just a spatula's lob from Ridley Road Market.
A couple of years ago (we are talking ye olde OSX Lion times) we visited this establishment to sample the goods of the now defunct Fattburger. It is good to see that, whilst the bulk of clientele has gotten more obliquely attired, the deep rouge paint job hasn't been covered up by a more aesthetically acceptable shade of pale and the two dart boards still hang on those delightfully dark walls. And they are still championing the humble seared-beef sandwich.
What a boozer.
The menu is nice and simple, offering three meat and a token veggie option. An ordering snafu meant we were delivered the Bacon Blue (instead the American-cheesed Cheesy) and Sweetsmoke. No matter though because what turned up looked stellar.
A chopped gem lettuce rainforest covered the bottom of the enamel dishes. Perched atop the canopy were thick, nicely charred patties with faint dashes of pink exposing themselves, and above them plump, dewy, cloche-glistened buns with drizzles of red and yellow sauces raining down from it.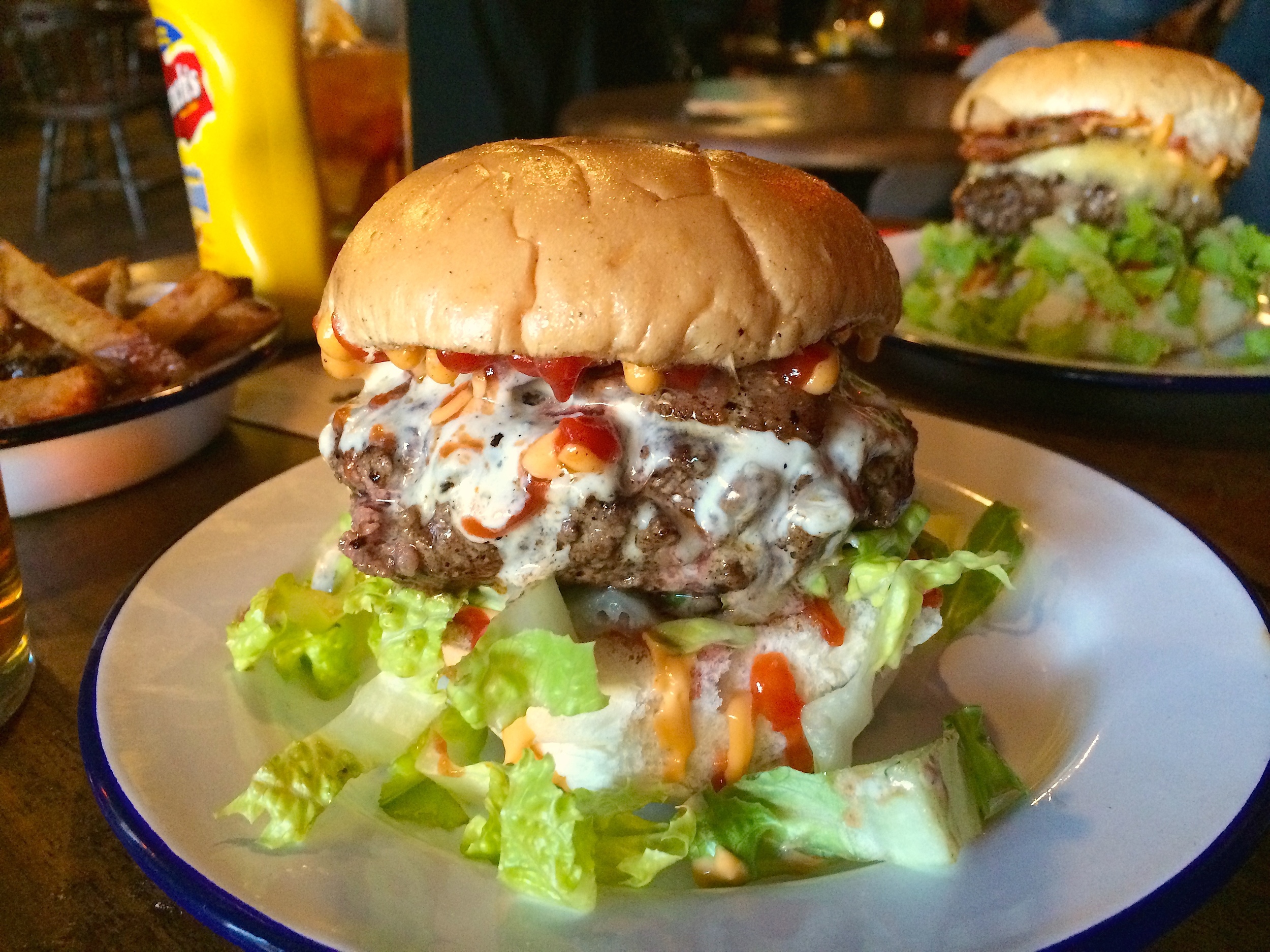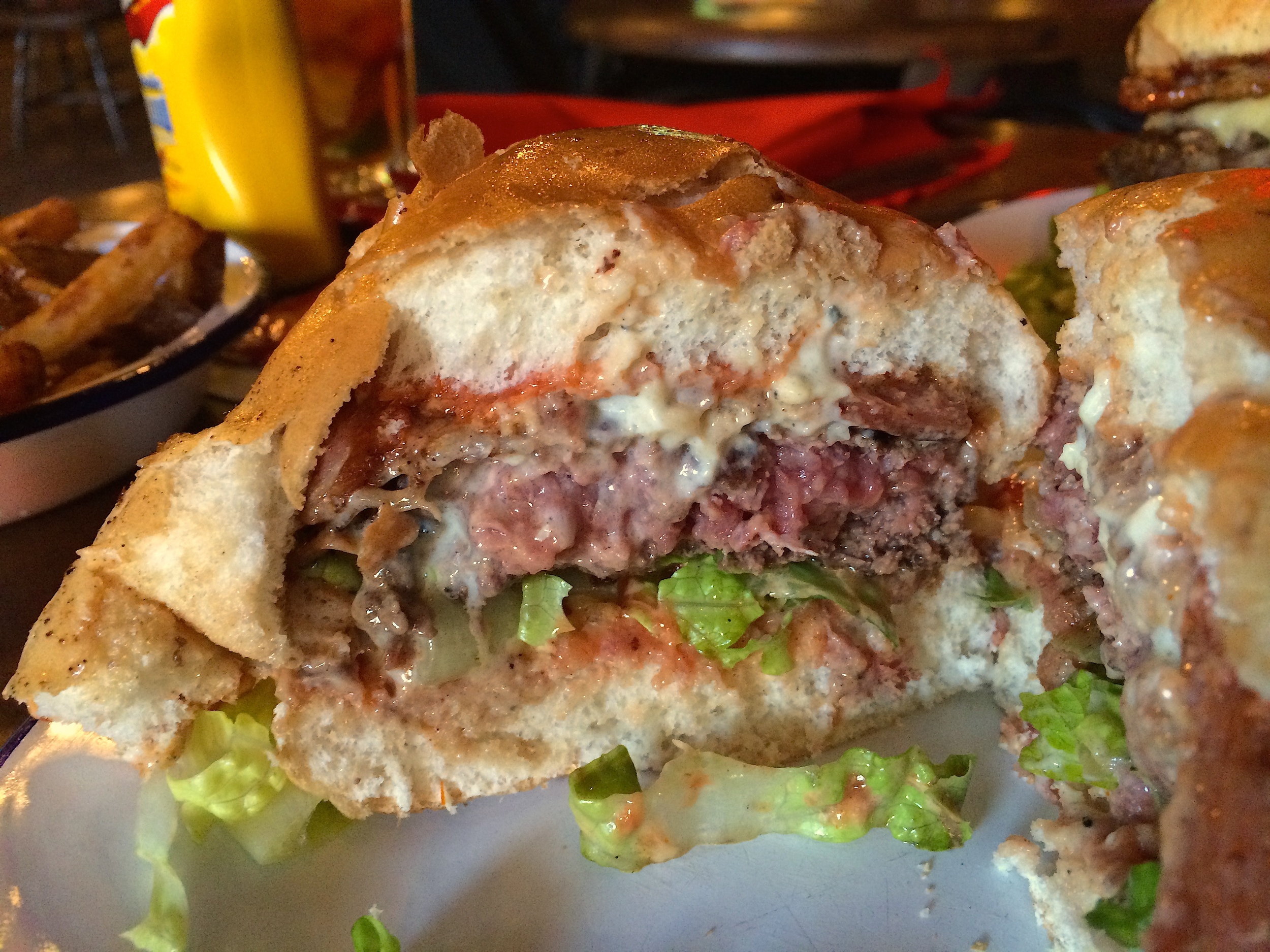 The meat was impressively consistent: The inside of the patties had perfectly soft pink flesh, with the outer edges showing a thick, darkened char crust with a great salty kick. Just how we like and hard to fault.The buns, with a lightest in hue reminiscent of Lucky Chip, were squishy and soft, yet not shy of a bit of chewy resistence.
The added extras were just as solid in quality. The sauce in the Bacon Blue was a great consistency, with thick lumps of blue cheese exerting sour notes amongst the nice mildness of it's viscous partner. Mixed with the pleasurably chewy, meaty saltiness of the bacon the combination hit the classic flavour profile, with plenty of ketchup and mustard intermingled helping it avoid being and obvious.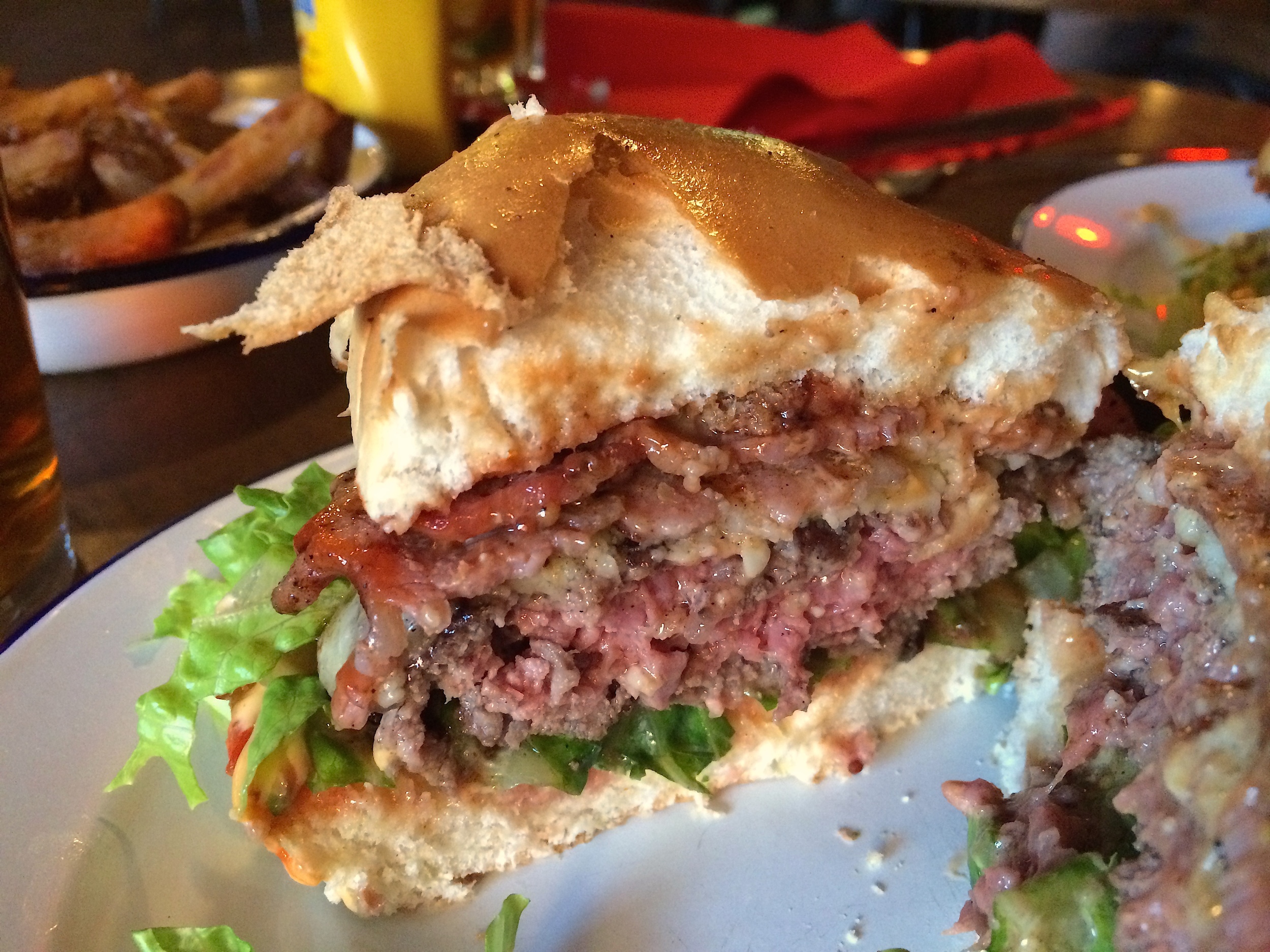 The bacon in the Sweetsmoke was literally that: contrasting notes of noticable sweet whiskiness bashing with the smokiness of the bacon.
It was immense.
The maturity of the smoked cheddar added a good savoury bolster to the patty. But the honey mustard sauce was a suprising, and wildly successful, addition throwing a great heat-plus-sweet cutting through those savoury elements. Even the gem lettuce, which might have looked overkill was a good choice adding a solid crunchy sourness.
Their time up North has produced some exceptional results, giving East London a place to consume a delightfully dirty burger with some great taste combinations. Long may they continue to serve there, (as long as we can join the darts league).