Another big boy backed entrant into the Soho arena is upon us. Tablet ordering is a boon to introverts all across the West End
Stepping into the outmoded shoes of Acceptable-In-The-Noughties urban bar concept Alphabet is the Grillshack. It sits right on the heel of Carnaby Street a few doors up from Gant Rugger and across the road from Bob Bob Ricard. If ever Beak Street did'st fancy itself to be more SoHo than Soho, it's now.
Homespun neighbourhood diner-style window lettering nestles below an exhibitionist lit sign above. You get the feeling that the omnipotent London restaurateur and former Gordon Ramsay alumni that put this place together doesn't want you to miss it.
The pared down menu hones in on all the food items currently tickling London's cuisined undercarriage - burgers, American-style brunch, 'healthy' grilled chicken, steak for a tenner - all items currently already supplied by places close by. Like, really fucking close. Stand in the doorway and you can practically see popular food purveyors Flat Iron, Clockjack Oven and the Breakfast Club. If you can't beat 'em, combine 'em.
The routine part white-tiled, part bare-concreted walls, industrial minimalist lighting and 90s kitchen-tiled floors are let down by banal office space ceiling tiles (because who looks at the fucking ceiling, right?). Byronesque tables-for-two are accompanied by clunky, oversized park bench-like booth seating. But as carefully playlisted MOR floats around, the sentimental Diner lover in us finds it weirdly quaint.
Remember you heard it here first kids, the future is having more ways of ordering than you really need. Technophiles prepare to lose your shit, as these guys are the pioneers - they literally have an app for that. Other options include: a touchscreen in the middle of the restaurant for tablet-style food allocation, ordering with the server at the hatch (feels a bit like the self checkout robot in Tesco) or, if you feel like pretending you are fine dining, you can sit sullenly at your table until one of the over-eager staff puppy-dogs over to take your order.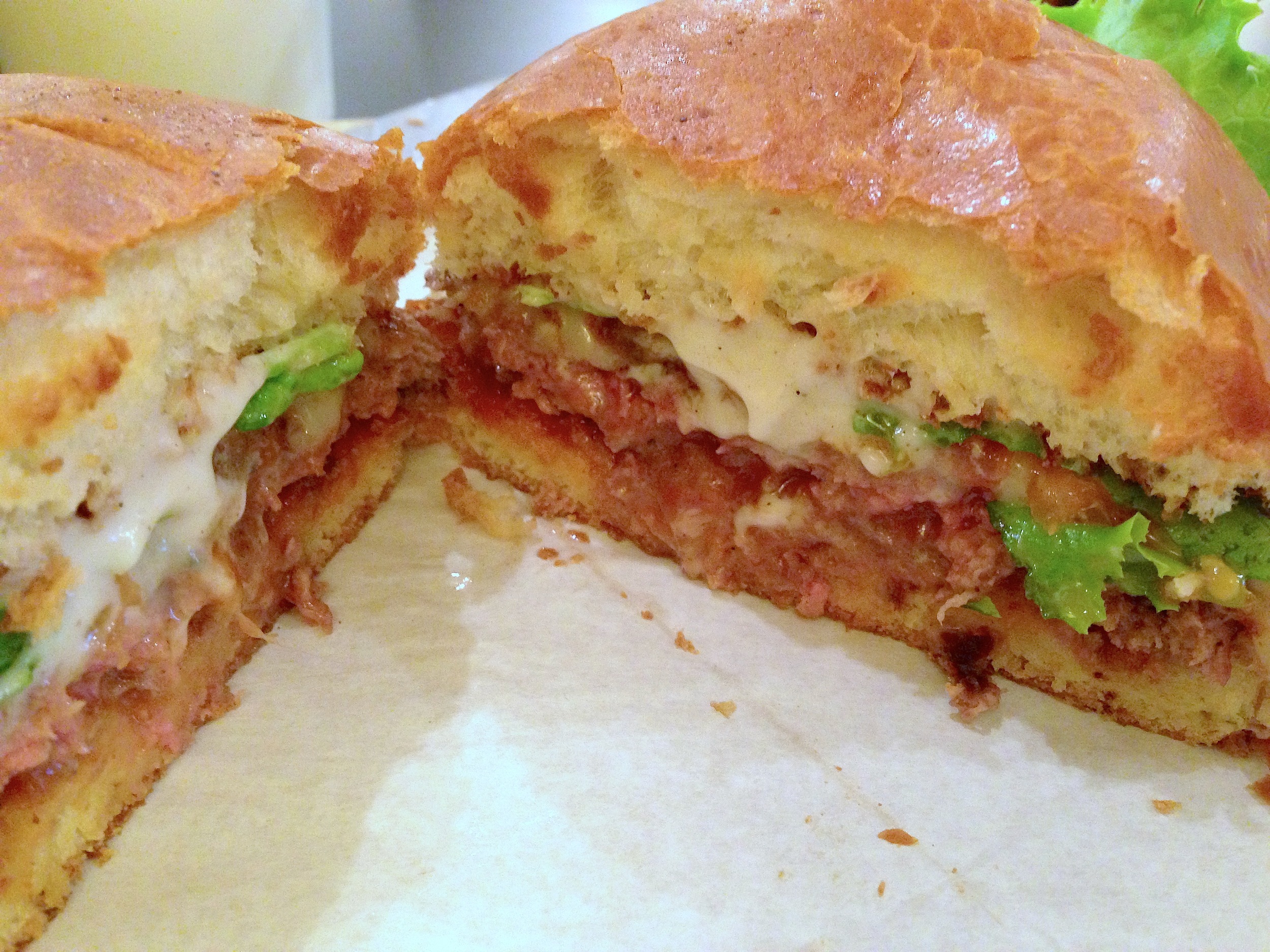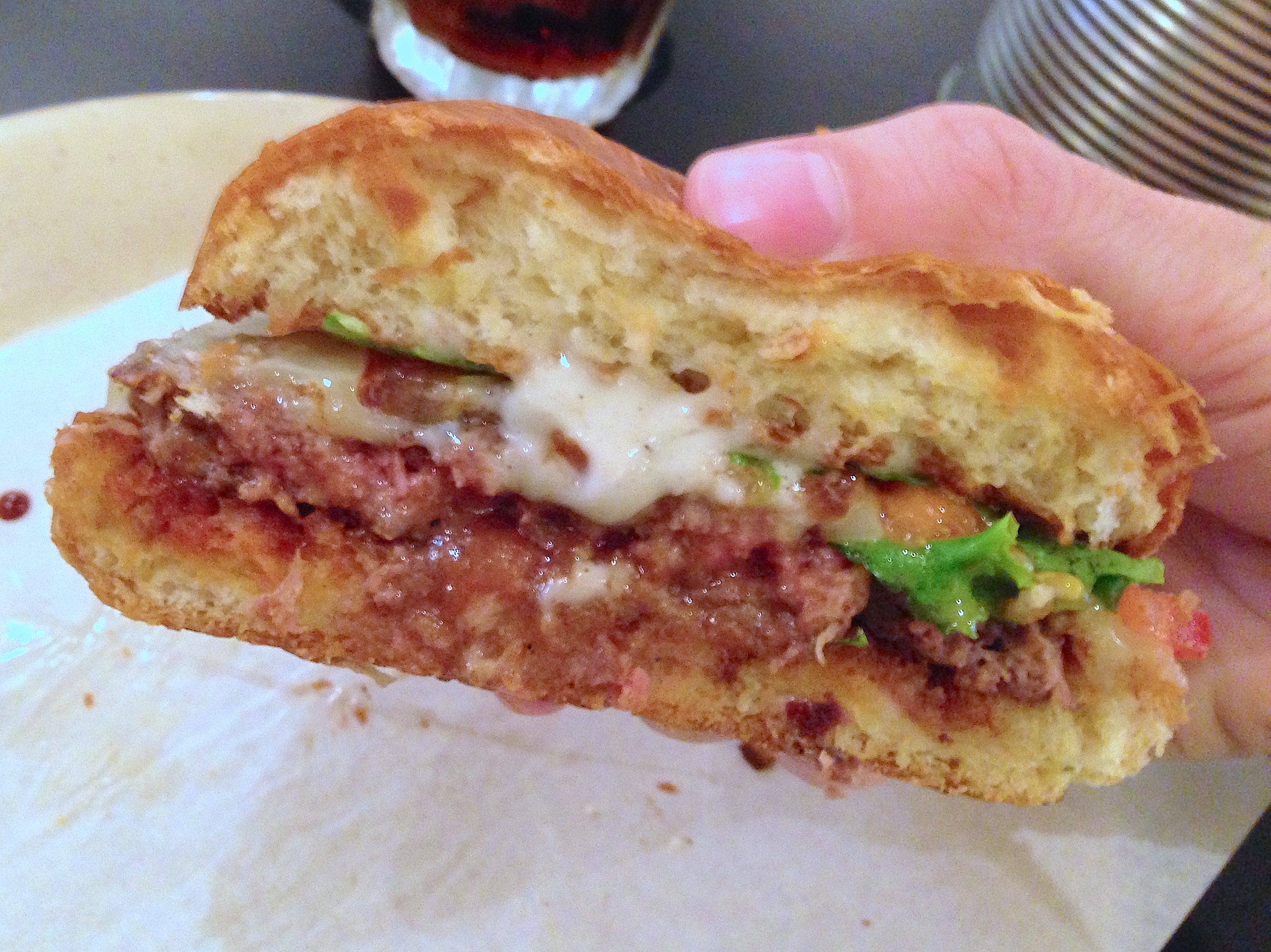 It's hard not to feel a fondness for this dinky burger. As it arrives you are cuffed in the face by the bakery sweet smell of the dark, golden toasted brioche. And it is a very fluffy, sweet brioche: dessert-like with a fine crust.
Once you've played a bit of Where's Wally with the meat, hidden beneath a fused-on coating of well-melted Jack cheese, you'll find a thin, competently cooked to medium, soft textured and moist patty. Nestled on the bottom bun is a thin spread of tasty more-savoury-than-sweet tomato chutney. Shake Shack style tomato slice and lettuce squish a very rich and thick, peppery mayo to the top bun. The pairing of condiments is just enough and well-balanced.
While the economical price point means you can't expect too much in the way of size, this is a pretty small burger with a patty that is lamentably dwarfed by the sum of it parts, especially the bun viennoiserie which out-sweets everything, to the point where sometimes you don't know if there is any meat in your gobful.
But the familiar diner-style is pleasant and it will certainly suffice for a quick, take away snack. Handy too for the wifi warrior who needs somewhere to juice up their laptop and grab a bite.
But for a full meal? Nah.
The price-comparable Dirty Burger supplies something that feels (and probably is) far bigger, more gut-pleasing, more soothingly unhealthy and arguably better.
But they haven't got a branch in Soho yet.
Rob.

Oh, and if you want fries, order two portions, because our portion size was a bit laughable.